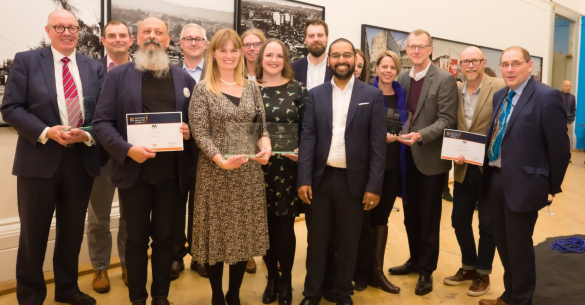 On Thursday 6 February, three of our previous Health Innovation Programme (HIP) attendees won awards at the Medilink South West Healthcare Innovation Awards 2020.
Vitamica, Speechtools and the-wib are all healthcare innovations developed in the West of England, with the support of the West of England AHSN. Having all previously attended the HIP – our four-day, fully-funded innovator bootcamp, all three innovations are now well on their way through the innovation journey, and winning awards! Find out more about each innovation…
Vitamica
Won the Innovation award
Vitamica is developing a novel, rapid antimicrobial susceptibility test for use with urinary tract infections. They have a vision of a near-patient diagnostic device for deployment in primary care settings. They have already carried out antimicrobial susceptibility testing on clinical strains of E. coli with the portfolio of antibiotics recommended for use in primary care, and have demonstrated that we can assess antibiotic susceptibility of E. coli directly from a clinical sample of urine from an infected patient.
Their imaging technology arose in the School of Physics, University of Bristol and Vitamica was established in January 2019. The company has built a diagnostic instrument and is using this to test samples. They have created a novel sample processing pathway, and will be making a patent application in this area to complement the patent application on the overall technique.
Vitamica attended the West of England Health Innovation Programme in October 2019 and the Health Technology Accelerator Programme recently.
Speechtools
Won the Digital Health award
Based in Bristol, Speechtools are developing a range of speech and language therapy apps. The tools include a speech therapy programme to help trans women feminise their voice as well as an app to help people who have difficulty with swallowing or drooling due to brain injuries, Parkinson's disease or learning difficulties.
Speechtools attended the West of England Health Innovation Programme in 2017 and the Health Technology Accelerator Programme in 2019.
Find out more about Speechtools
the-wib
Won a runner up award and received a special mention at the ceremony as one to watch in future.
After being struck by chronic fatigue syndrome and becoming housebound, Alan Bec created the Wellbeing Indicator Badge (the-wib) as a shorthand way to communicate with people from family and friends to healthcare professionals. He found that the-wib allowed the wearer to communicate their energy levels to others without having to explain or justify how they are feeling. He is now running a social enterprise to find out what other uses the-wib could have.
the-wib attended the West of England Health Innovation Programme in March 2019.
We are currently accepting applications for the 2020 Health Innovation Programme. Apply now.
Posted on February 10, 2020
---