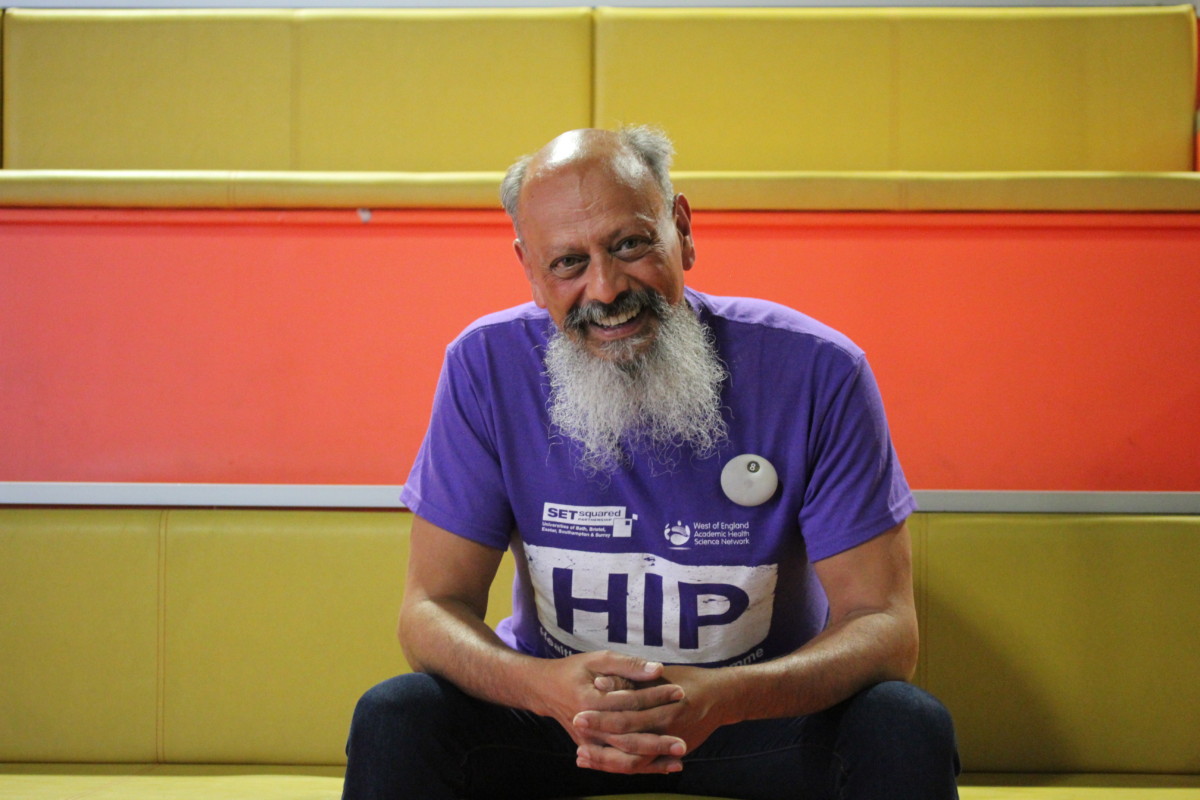 Alan Bec, Founder of the Wellbeing Indicator Badge (wib) and graduate from our West of England AHSN Health Innovation Programme is one of the innovators featured in the recently published AHSN Network Diversity in innovation report. Alan shares his story of living with chronic fatigue syndrome and developing the wib as a shorthand way to communicate with people.
I became a healthcare innovator almost by accident. My career had taken me through a number of roles: psychologist, university lecturer, student mentor and executive coach. I was the first BAME head of coaching and training for the Institute of Directors.
Then I was struck by chronic fatigue syndrome and became housebound. Talking was exhausting. I just didn't have the energy.
After three years of living like that, I created the Wellbeing Indicator Badge (wib), a shorthand way to communicate with people – family, friends, healthcare professionals. I'd been a high-functioning, respected professional and academic, and there I was a lump of meat in a bed. I wanted to reconnect.
I'd use the wib to show my energy levels on a scale of one to ten. People could instantly see how I was feeling and respond appropriately. This was particularly helpful with my GP, who could tailor his approach to consultations and care. With fluctuating symptoms, it helped me understand the impact of my illness and self-regulate my activity.
Others became interested in the wib and in 2017 I was put forward to do a TED talk, which attracted media attention. The West of England AHSN approached me to consider their Health Innovation Programme for healthcare entrepreneurs, and as I was getting better, using my time more strategically, I had more ability to work on the wib as a product to help others.
Looking back, feeling like an 'outsider' at key stages of my life was also influential in developing the wib. It's all about leveling the playing field for people who find it hard to articulate their sense of wellbeing for whatever reason; it's about inclusion and reducing social isolation.
I was born in Scotland. My mother is British and she fell for my father who came over from India on a boat at 16 – he is Anglo-Indian with mixed eastern cultural heritages. I didn't know what racism was until we moved to England when I was eight when my dad was promoted. Then we went up in the world, moved to a posh house in the countryside amongst doctors and dentists. I experienced racism from day one.
But I don't come from a place of anger; I come from a place of wanting to connect. Healthcare is for all, so must include all! Innovation is the result of the diversity of ideas and experience that drives cutting edge solutions. Organisations like AHSNs working in this space need to demonstrate to BAME innovators they are not simply 'welcome' but also essential to healthcare innovation. It's exciting that together we are innovating our organisational culture to become genuinely representative. Together we can co-create social innovation and wellbeing for all.

Posted on September 23, 2019 by Alan Bec, Founder, the Wellbeing Indicator Badge (the-wib)
---
We have a variety of support and tools that you can use to help get your ideas off the ground or help your business grow.
Read more