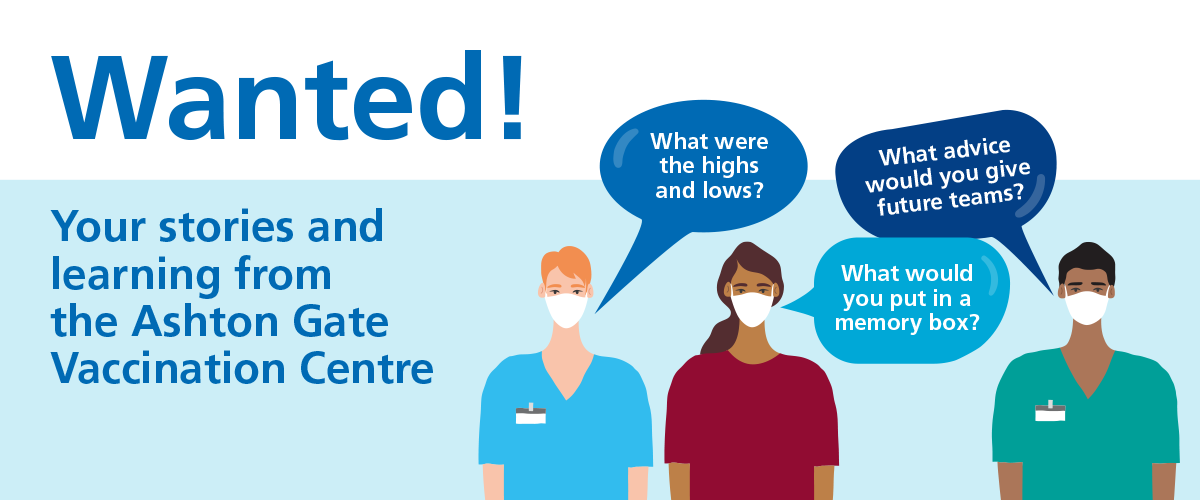 Did you work as a member of staff or a volunteer at Bristol's Ashton Gate Vaccination Centre? Were you part of the team that helped to set up the Centre? If so, we want to hear from you!
Back in January 2021, Ashton Gate Stadium opened its doors as the UK's first mass vaccination centre. Alongside 19 GP-led clinics, 15 community pharmacies vaccination sites and two hospital hubs, the Ashton Gate Vaccination Centre contributed to Bristol, North Somerset and South Gloucestershire's strong uptake, with vaccinations in the area higher than the national average across all age groups.
It took just three days to transform the stadium's South Concourse into a large scale vaccination centre.
Over 300 staff and 800 volunteers have been involved, including 19 Ashton Gate staff members who transferred to work at the Centre, 540 volunteers from St John Ambulance, staff from both North Bristol NHS Trust and University Hospitals Bristol and Weston NHS Foundation Trust, and many, many more.
After successfully delivering 235,048 Covid-19 vaccinations, the Ashton Gate Vaccination Centre closed in early August, with all appointments moving to a new centre at UWE.
We want to help document and celebrate this incredible achievement by asking all those involved in setting up and working at Ashton Gate during this time to share their memories, stories and learning.
Who do we want to hear from?
We are encouraging all people involved in any aspect of the planning and delivery of the Vaccination Centre to share their experiences. The more people we can listen to and gather insight on the journey, the richer the lessons learnt.
What are we trying to achieve?
We want to capture the experiences and lessons learned from designing, setting up and running the Ashton Gate Vaccination Centre during the extraordinary period of time that has been the Covid-19 pandemic.
Noshin Menzies, Senior Project Manager at the West of England Academic Health Science Network explains: "We want to record the insights of everyone involved, whatever your role, to recognise the incredible dedication and effort that went into the process.
"We are particularly interested in hearing and capturing the highs and lows of collaborating at pace and setting up a clinical system – bringing together staff and volunteers from across different organisations.
"We will use this insight to help health and care providers to inform and improve work going forward, as well as building an important historical record of this monumental effort."
How can you contribute?
We have a range of ways you can tell your story.
Complete our online survey, which provides a number of questions as prompts to recollect your experiences and learnings. The survey will close on Sunday 19 September 2021. Access the survey here.
Photos and videos
You might choose to submit photos or videos from your time at the Centre that represent or explain an aspect of your experience. Please provide a brief written description of each image or video and do make sure these don't include images of patients.
Diary entries and social media posts
You may have written diary entries, kept notes on a phone or shared your experience through social media or in conversation with colleagues and friends. You can anonymise any identifiable details and share these as vignettes of conversation or use them as sources of inspiration to describe your experience.
Creative writing
If you prefer, feel free to express your thoughts in poetry, prose or any other written format. You can be as creative as you like in sharing your experience in your own voice. This may include sketch noting, spider diagrams or other forms of imagery to express your thoughts.
Please email your contributions to us at weahsn.communications@nhs.net by Sunday 19 September 2021.
Thank you! And thank you for being part of the programme and your contribution to the nearly 236,000 vaccines given at Ashton Gate.
Posted on August 16, 2021
---