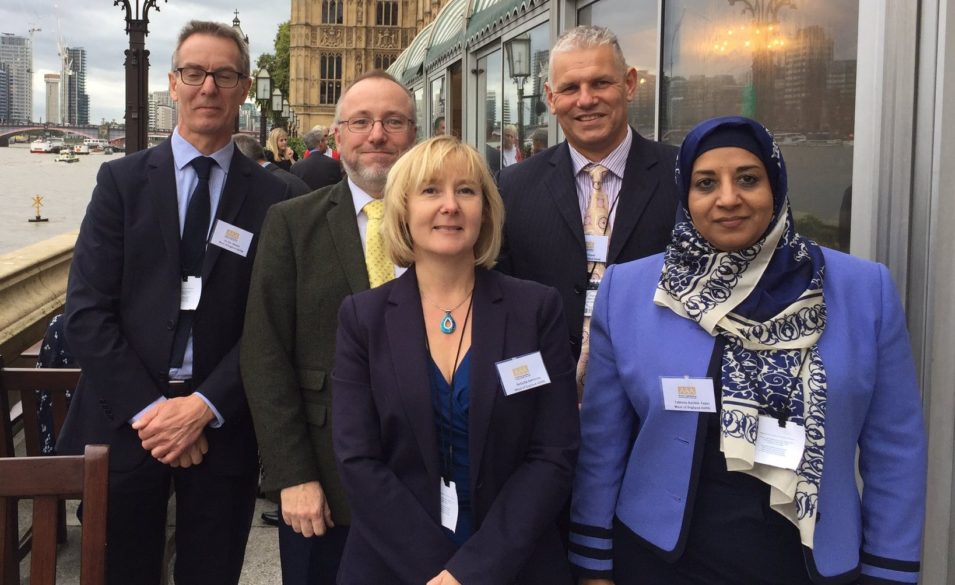 Our Don't Wait to Anticoagulate (DWAC) project won a prestigious Anticoagulation Achievement Award this month for its achievements in stroke prevention.
DWAC won the category 'The centre best able to demonstrate adherence to NICE quality standards for atrial fibrillation'. The Anticoagulation Achievement Awards celebrate outstanding practice in the management, education and provision of anticoagulation across the UK. Staff from the West of England AHSN attended the award ceremony on Wednesday 11 October at the House of Commons.
The West of England AHSN have been working in collaboration with Gloucestershire Clinical Commissioning Group (CCG) and Bayer Healthcare to prevent strokes amongst patients with atrial fibrillation by improving medicines management in primary care.
Effective anticoagulation has been shown to reduce the risk of stroke for patients with atrial fibrillation; an abnormal heart rhythm. Anticoagulation is the process of hindering the clotting of blood; especially the use of an anticoagulant medicine to prevent the formation of blood clots.
For the DWAC project, the West of England AHSN co-designed resources with a wide range of stakeholders, including NICE, patient representatives and clinical partners. These resources include guidance for clinicians, pharmacists and patients to aid shared decision making and improve take up of anti-coagulant medicines. The resources are supported by quality improvement (QI) and clinical skills training. For more information visit www.dontwaittoanticoagulate.com
During the 36 weeks of phases one, two and three of the project's roll-out in the westcountry, DWAC has potentially prevented 27 strokes amongst people with atrial fibrillation, representing an estimated saving of over £629,000.
Additionally, feedback from users confirms that the DWAC approach has led to improved patient care, increased confidence in shared decision making, and improved working practices. There has been a strong shift in focus from "Why anticoagulate?" to "Why not anticoagulate?"
This award demonstrates that DWAC is an important part of the national drive to reduce the number of strokes. The project is being adopted across the North West of England, Yorkshire and Humberside, Buckinghamshire and East Berkshire with 85 GP practices involved and many more engaged to start, plus further spread is planned across the West.
"I am really proud that all the hard work in GP practices across Gloucestershire, with the support of the West of England AHSN, has been recognised by winning this award. Furthermore, it is fantastic that the principles and methods developed within the DWAC programme are being rolled out to primary care in other CCG areas across England."
Dr Jim Moore, GP, Stoke Road Surgery, Cheltenham
The organisers were delighted at the level of interest and applications received for this first year of the Anticoagulation Achievement Awards. The awards are hosted by leading charities, Anticoagulation UK, AF Association, Thrombosis UK, Arrhythmia Alliance and training establishments – Anticoagulation in practice and Thrombus. They invited applications from teams and individuals across secondary, primary and community services who can demonstrate innovation and excellence in delivering anticoagulation services, resources or individual leadership. There were six award categories and DWAC was up against some tough competition.
The winning entries from each category received a £1,000 bursary, which will be used to aid continuous improvement of services.
For the full list of winners, visit the Anticoagulation Achievement Awards website.
Photo: Jim Moore, GP at Stoke Road Surgery; Steve Ray, Healthcare Partnership Manager at Bayer; Dave Evans, Quality Improvement Programme Manager at the West of England AHSN; Tasha Swinscoe, Chief Operating Officer at the West of England AHSN; and Tabinda Rashid-Fadel, Circulatory Programme Manager at Gloucestershire Clinical Commissioning Group.
Posted on October 19, 2017
---