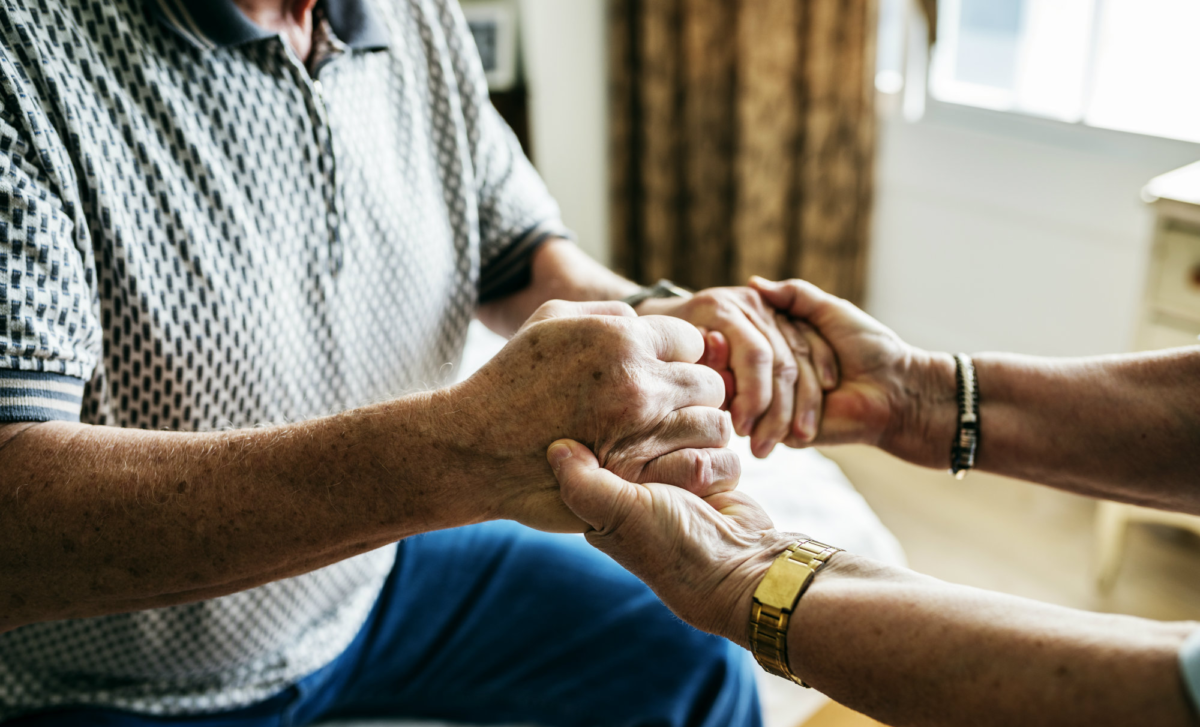 Hein Le Roux is a GP in Gloucestershire as well as being a Clinical Lead for Patient Safety here at the West of England AHSN. In this blog, Hein reflects on his recent experience of guiding a couple through end of life care planning and how helpful ReSPECT (Recommended Summary Plan for Emergency Care and Treatment) was in steering those conversations.
John and Sandra (not their real names) had been married for more than 50 years when I met them, almost by accident, earlier this year. My GP colleague was away on sabbatical and I was asked to do a home visit for a man in his 80s who was feeling unwell. He had cancer that had spread and was causing his kidneys to fail, and was becoming increasingly frail.
I had recently read the new GP contract with its focus on how 'primary care networks' might improve care for patients and their loved ones at the end of life.
In addition to being a GP, I am also a Clinical Lead with the West of England AHSN where we are doing a significant piece of work rolling out ReSPECT across our region, building on our 'deteriorating patient' work. I also work with our Gloucestershire CCG end of life team which has the vision of improving the end of life experience of patients and loved ones.
It goes without saying that we all care about our patients. However, it is nationally recognised that sometimes how we communicate with patients and between settings or professions can greatly impact the care we deliver to people at the end of their lives.
It struck me that we could do a mini quality improvement (QI) project to better understand how care is delivered and where improvements might occur bringing the various strands of my GP / CCG/ AHSN work together.
I asked John and Sandra if they would be interested in working with me on this as equal partners and they both said yes. Their lived experiences validated my clinical experiences that all the clinicians I have ever worked with do really care about their patients and yet care delivery can be 'bitty', with communication not always being as clear and joined up as it might be. John was under the excellent individual care of surgeons, cancer specialists, kidney specialists, palliative care team and different GPs but the system of care was not as integrated as it might be.
For me, the golden thread of great patient care that relies on team work is communication.
Most clinicians that I have spoken to about this feel frustrated by this gap in care, but how to bridge it? It can be hard to fly the aeroplane whilst you are building it and for me the antidote to this challenge is taking a QI approach.
We identified three key themes for learning and improving:
1. We need clearer communication between primary and secondary care about a patient's prognosis, particularly when their condition is not responding to active treatment. These conversations should involve the patient and their loved ones.
2. We need to have open, anticipatory conversations around advance care planning and treatment escalation planning which includes the ReSPECT form and process.
3. We need to get anticipatory medications in place before a crisis. My fellow Gloucestershire GP colleague, Michelle Doidge, has done an excellent piece of QI work with 'just in case' boxes that hold key end of life medications.
Having 'the conversation'
I could write a lot about each of these three themes, but I will focus on theme two. Filling out the ReSPECT form with John and Sandra prompted an incredibly powerful and emotive conversation which came as a bit of a surprise and I would like to share it with you.
In preparation, it made me go through the discipline of gathering some of the key letters from various specialists which would be helpful to have in John's house. These are particularly useful for any out-of-hours clinicians, particularly an ambulance crew, who do not know him and need information to refer to at a time of crisis.
Whilst I have done my online Resuscitation Counsel training and been to several ReSPECT events, sitting down with John and Sandra for 'the conversation' made me feel apprehensive as it was the first time I had been through this process.
Reassuringly the form intuitively leads the discussion and crucially facilitates a conversation which is much more about 'what matters to you?' rather than the traditional medical approach of 'what's the matter with you?' Sometimes it is more pleasant to avoid some of the difficult aspects of 'the conversation' but the ReSPECT process supported me to do this in a more structured yet compassionate way then I would otherwise have managed.
Explaining to John and Sandra how he was likely to die and ascertaining how he would like this to occur was an incredibly intimate and tearful experience for all of us.
Out of the ReSPECT conversation, we all realised that John did not have much time left and rather than attend an upcoming outpatient appointment he decided to attend an important family gathering in Devon. His family were concerned, but with John's typical dry sense of humour he retorted with, 'what is the worst that is going to happen to me?'
Some weeks later and on the day of him dying, John's symptoms deteriorated in the early hours and Sandra felt understandably anxious and called an ambulance. The feedback I had from this was that the attending crew found the documents invaluable and this helped to keep John at home and fulfil his wishes.
Reflecting on ReSPECT
I have reflected on the attending crews' comment and must admit that I feel slightly embarrassed that it has taken me this long in my career to leave a treatment escalation plan at a patient's home to help guide out of hours colleagues' decision making. How on earth would they previously have been informed about a person's wishes and conditions particularly when they probably have never met the patient and don't have access to their notes?
On a personal note, there have been several moments in my career as a doctor that have helped me to feel more human than clinician. This conversation with John and Sandra was one of those occasions. Thank you to John and Sandra for their bravery in working with me on this. I hope you find the ReSPECT process and the conversation it encourages as fulfilling as we did.

Posted on May 17, 2019 by Hein Le Roux, Clinical Lead for Patient Safety, West of England AHSN
---