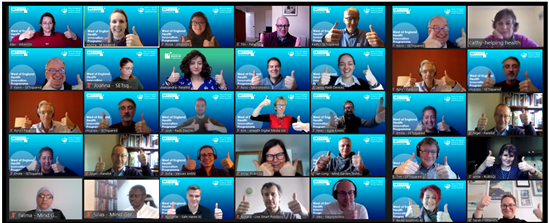 Posted on January 17, 2022
We have run the Health Innovation Programme (HIP) as an innovation business development course to help healthcare entrepreneurs test the validity of their business models and understand how to pitch their propositions to the NHS, amid a very complex NHS business landscape.
The programme was developed as a collaboration between four AHSNs (West of England, Kent Surrey & Sussex, Wessex and South West) and the global no. 1 university business incubator, SETsquared.
We worked in partnership with SETsquared to deliver the Health Innovation Programme (HIP) locally once a year.
Innovations that have benefitted from our local HIP include:
A pain self-management app
A breastfeeding support app
A rehabilitation solution for patients with neurological conditions
An app for self-measurement of vision
A virtual support provider for vulnerable people
A staff engagement tool
"I learned a huge amount in the HIP bootcamp training and was able to share my business ideas with fellow innovators, present my business proposition to a panel of experts and start building relationships with a network of experts and fellow entrepreneurs. Since then, I have continued to receive ongoing support from the AHSN with regards to funding opportunities, application reviews, pilot evaluations and connecting me to NHS maternity services and commissioners."

Dr Chen Mao Davies, Founder/CEO of Anya and HIP graduate 2018
The challenge
Innovation is critical to enabling the NHS to achieve its ambitions, but it will not meet its financial or capacity challenges by relying purely on innovation from within. It needs to work creatively with industry to meet the efficiency challenges facing the healthcare system, in order to improve quality of services and deliver better outcomes for patients.
Many commercial industries, such as shopping, holidays, insurance and journalism have benefited from adapting new technologies and new ways of working, and so too must the healthcare sector – discovering innovations with promise that can be developed, adapted and adopted.
However, most start-up businesses fail within two years – and often this is due to poor business planning, misunderstanding the market, or failing to clearly identify and express the value proposition to investors or customers.
Add to that the complexity of the NHS as a marketplace and the high hurdles that need to be cleared for regulatory approval, and the NHS becomes a particularly difficult market to succeed in.
The Health Innovation Programme (HIP) helped to bridge this gap, by helping healthcare entrepreneurs to fully understand their marketplace and develop a business proposition with real potential to transform healthcare.
Our approach
We worked works in partnership with SETsquared to deliver the Health Innovation Programme (HIP) locally once a year.
An intensive fully funded health innovation business development course, the Health Innovation Programme (HIP) targets people with innovative business propositions with genuine potential to transform health and care.
Historically run face-to-face over four full days, the course has been delivered virtually over five half days since 2020, with optional afternoon networking and 1:1 mentoring.
The programme has run every year since 2015.
While covering core skills in entrepreneurship, HIP also provides delegates the opportunity to make a compelling pitch to an experienced panel, to network with like-minded innovators, and the chance to get continuing support from their local AHSN to further develop their proposition.
"The HIP provided us with a good introduction to business and operating in the NHS. It supported us to improve ideas and our business case and provided insight to improve strategy. It started a thought process that ultimately led us to pivot our business model to be more NHS focussed and integrated. We continue to work with the West of England AHSN, which has supported us throughout our innovation journey; connecting us with appropriate organisations, helping us to write bids for funding and it is with their support that we have now moved onto a very different phase of our journey – from business development to NHS deployment and scale."

Carey McClellan, Founder/CEO of getUBetter and HIP graduate 2015
Impact to date
The West of England's HIP has supported 134 healthcare entrepreneurs across the region to develop businesses that improve patient care, generate savings for the NHS, create jobs and economic growth. Our business support has included helping them to refine their propositions, take their businesses forward, launch new products, secure investments and widen business networks.
New products and services
HIP graduates have been supported in the development of a number of new healthcare products and services. These include:
getUBetter – a pain self-management app
Carey McClellan is the Founder/CEO of getUBetter – a physiotherapy self-management digital therapy platform that integrates with local musculoskeletal (msk) pathways, to aid the recovery and prevention of minor injuries. He is also a graduate of the 2015 Healthcare Innovation Programme.  The app, which launched in 2016, is now deployed in the NHS and occupational health sectors across South London and South West England and is prescribed by clinicians (GP, physiotherapist, occupational health) during patient consultation. Visit the getUBetter website for more information or watch this video.
Anya – a pregnancy, parenting and breastfeeding support app
Dr Chen Mao Davies is the Founder/CEO of Anya – a parenting support app using 3D interactive technology – and a graduate of the 2018 Health Innovation Programme. To date, Dr Davies has won over £250,000 grant funding from Innovate UK, EU, UnLtd and the NHS, partnered with 12 NHS trusts across the UK, as well as Virgin Care, to pilot the technology and, in 2021, won the prestigious Innovate UK's 'Women in Innovation Award'. The app is now available on NHS prescription in select regions. Find out more about Anya here.
SoleSense – a digital rehabilitation platform for patients with neurological conditions
Caz Icke is a specialist neurophysiotherapist and the developer/Director of SoleSense – a digital rehabilitation platform for patients with neurological conditions affecting balance and walking. Her innovation, SoleSense utilises sensory insoles to provide biofeedback that helps patients perform better independent exercise. She graduated from the Health Innovation Programme in 2019, which has, to date, led to a partnership with a Senior Research and Innovation Director in the NHS and a 'Women in Innovation Award' from Innovate UK IN 2021. Visit the SoleSense website to find out more.
"The Health Innovation Programme gave me a crash course in business and taught me how to pitch into the NHS. Since graduating they have helped me in writing grant applications to source funding (something I used to very difficult) and with their help, I was successful in winning the Innovate UK Women in Innovation Award, which has been a huge catalyst for my business!"

Caz Icke, Director of SoleSense and HIP graduate 2019
Next steps
We continue to support the graduates of the programme through our HIP Alumni.
The information in this case study is based on the period from 2015 to March 2023.
---