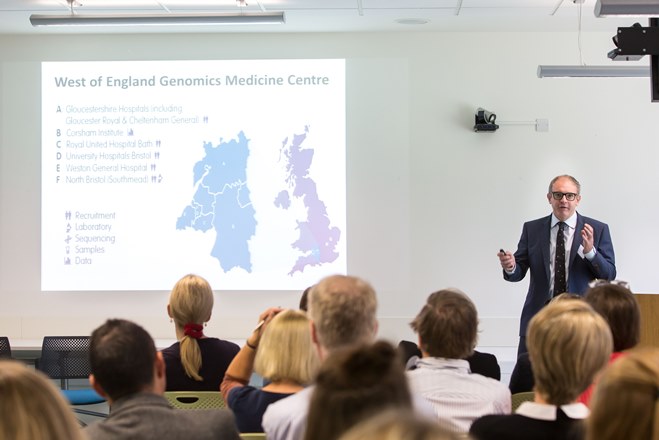 The West of England NHS Genomic Medicine Centre (WEGMC), a partnership of NHS Trusts, universities, commissioners, research and health science networks (including the West of England AHSN), is one of 13 regional genomic medicine centres in England that have been set up to help the NHS gain a better understanding of the genetic causes of cancer and rare diseases.
The WEGMC proudly celebrated its official launch with a recent event at North Bristol NHS Trust's Southmead Hospital. Highlights from the event included a key note speech delivered by Professor Sue Hill, chief scientific officer at NHS England and important local updates on the project from key members of the WEGMC team.
In July, the WEGMC achieved the major landmark of enrolling the first patients in the West of England region to take part in the project. The project has also made great progress by developing personalised clinic bookings for patients who are eligible to take part in the project, an initiative that has resulted in a 100% clinic attendance rate. Patients in Bristol are currently being recruited but the project will be extending to Bath, Gloucestershire and Weston in the near future.
Dr Andrew Mumford, clinical director of the WEGMC, said: "We are very proud to be involved in such a groundbreaking project and we are currently making great progress, thanks to the support of local patients and healthcare experts. The West of England region has a great network of healthcare partners who are all keen to work together to develop a more personalised approach to treatment for people with rare diseases and cancer."
Professor Sue Hill, Chief Scientific Officer for NHS England, said: "Genomics is central to our vision of the future of healthcare and the launch of the West of England NHS Genomic Medicine Centre is another great step in keeping NHS care at the cutting edge of science. The West of England NHS GMC has been particularly impressive in the strength of the partnerships that they have formed between the NHS and other key players and this will enable them to ensure a strong and effective service for the region."
Genomic medicine centres are part of the wider 100,000 Genomes Project, which is a ground-breaking initiative launched by the Prime Minister in 2012. The project involves collecting and 'decoding' 100,000 human genomes, which are complete sets of people's genes, in the hopes that new and more precise diagnostic tests and personalised treatments could be developed in the future.
Bristol-based Joanna Cooper's daughter Imogen, aged seven, has a rare condition caused by mutation in the KAT6A gene which was eventually diagnosed through a 'diagnostic odyssey' of tests.
Joanna said: "The work that the WEGMC and 100,000 Genomics Project are doing is so important to families like us who have had to wait so long for answers. Imogen has seen over 30 doctors and in the beginning we did not have any clear information on her condition and how it could be treated."
Find out more at www.wegmc.org.
Posted on October 10, 2016
---