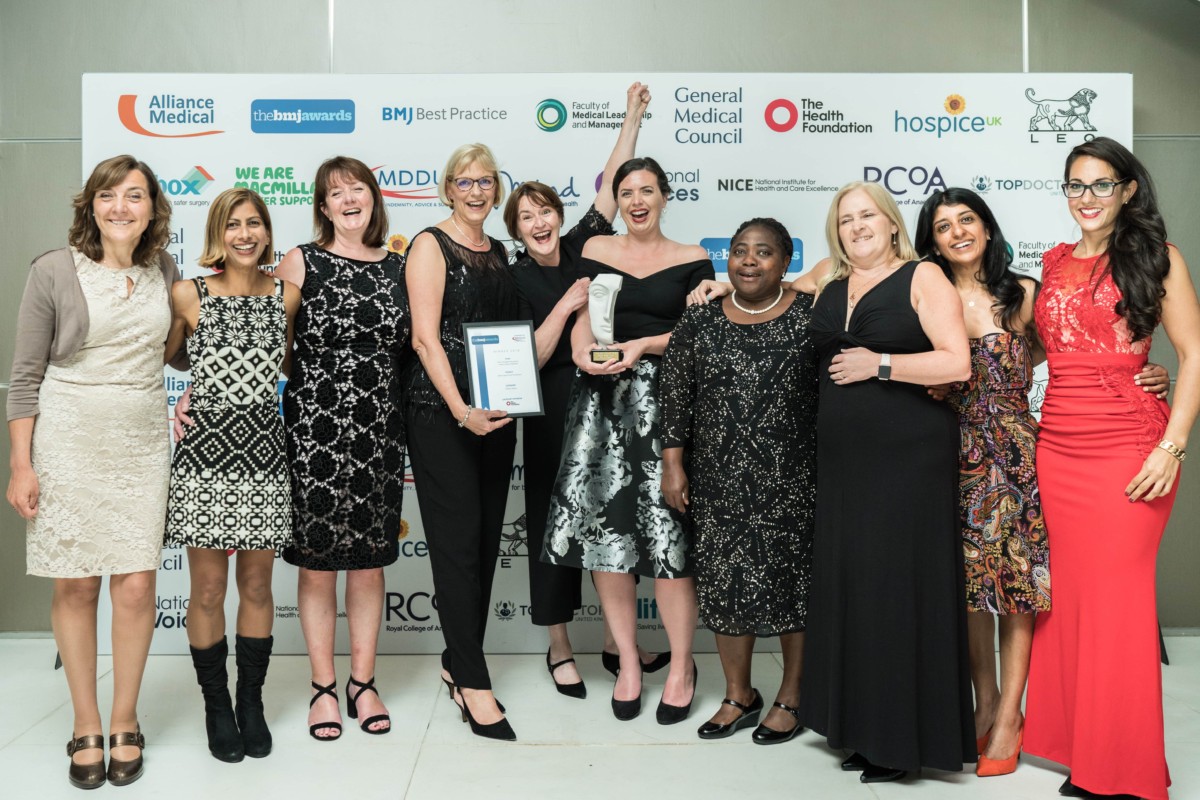 Promoting excellence in healthcare, the 10th BMJ Awards took place in London on Thursday 10 May in London and we are delighted to announce that the West of England Academic Health Science Network (AHSN) was awarded the title Patient Safety Team of the Year.
The annual BMJ Awards showcase knowledge and experience to inspire others, giving exposure to teams who demonstrate courage and passion for overcoming challenges in our common mission to improve outcomes for patients and communities across the UK.
The Patient Safety Award is given to teams that are leading the way in improving patient safety and providing better outcomes.
The judges recognised the impact we have made to patient outcomes in the West of England across the entire health community. We have taken a whole system, collaborative approach towards patient safety, in particular  through our deteriorating patient programme, including sepsis awareness and the use of the National Early Warning Score (NEWS, and now NEWS2) across all handovers of care. Read more about our work in to improve care for the deteriorating patient here.
Judges' comments: The judges were impressed by this passionate, committed and cohesive team. Their approach to system-wide engagement, involving GPs, nurses in the community, and pre-hospital services is outstanding. They achieved a measurable impact of reduction in mortality. They have a commitment to spreading learning across other regions, and have a clear vision of how they will take the work forward.
This Patient Safety Team of the Year Award therefore goes to all members of the West of England Patient Safety Collaborative, comprising all our NHS provider and commissioner organisations.
Collecting the award at the ceremony on our behalf were Anne Pullyblank, Clinical Director for the West of England Patient Safety Collaborative; GP Alison Tavare; and Sandra Akintola, Clinical Project Lead for Bristol Community Health.
Celia Ingham Clark, Medical Director for Clinical Effectiveness, NHS England, sent this message to the team: "Many congratulations on winning the BMJ Award last night for your work on NEWS. It's very well-deserved and you are a real example for other parts of the country to follow. Well done!"
Matt Inada-Kim, National Clinical Advisor on Sepsis (NHS England) and Deterioration (NHS Improvement), said: "I am so pleased for the West of England AHSN team. They have given the rest of the country a glimpse of what the NHS could be like in every part of the country.
"The standardisation across an entire region, with a single language of sickness, across all pathways of care and environments has demonstrably reduced deaths from Suspicion of Sepsis, and is a powerful example of the value of marrying quality improvement with outcomes data measurement."
James Scott, Vice Chair of the West of England AHSN and Chief Executive of Royal United Hospitals Bath NHS Foundation Trust, said: "We are extremely pleased to receive national recognition in the form of this BMJ Award for our regional work on patient safety. Through our collaborative approach from day one, all NHS provider organisations in the West of England have played a vital role in our success to date and I'd like to thank everyone for their commitment and contribution."
Visit the BMJ website for all this year's winners.
Posted on May 11, 2018
---