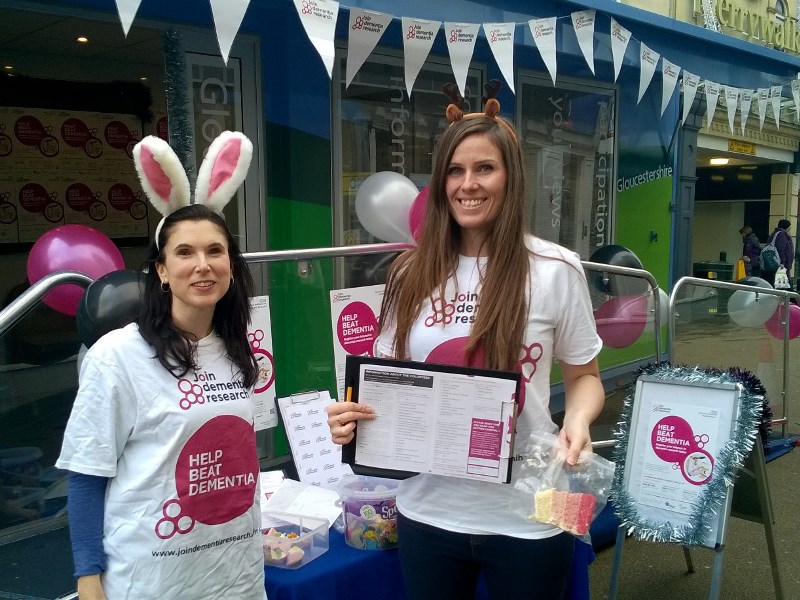 A tour bus promoting a service that helps people to take part in dementia research studies proved such a hit with shoppers in the West of England before Christmas that the region has now taken the number one slot for the highest number of local registrations to the service in the country.
'Join Dementia Research' allows people with and without dementia to register their interest in dementia research, so they can be contacted about relevant research studies.
Backed by the National Institute for Health Research Clinical Research Network (NIHR CRN): West of England and local partners, the bus visited four locations in Stroud, Weston-super-Mare, Swindon and Bristol.
The aim of taking the tour bus on the road was to reach 1,000 local registrations to 'Join Dementia Research' by Christmas. That target was smashed, with around 500 registrations added since the week's tour and the local total now standing at 1,250, making the West the leading region nationwide for people signing up to the service, which currently has almost 15,000 people registered nationwide.
Vital studies into early diagnosis, prevention and new treatments for dementia are making progress but more volunteers, with dementia and people without the condition, are needed.
The bus was supported by local NHS Trusts, including the Avon and Wiltshire Mental Health Partnership NHS Trust, Alzheimer's Society and Alzheimer's Research UK. Volunteer champions Tony Hall, chairman of the Bristol Dementia Action Alliance and also a carer to his wife who has dementia, and Hilary Doxford, who has early onset Alzheimer's disease, also helped out.
Hilary said: "As a person living with a dementia diagnosis I was uplifted by the number of people stopping to talk to us, hearing and sharing our stories and for them to then sign up to `Join dementia research. Anything that can help researchers complete their research sooner has to be good news for people with dementia, and the register does just that."
Check out #JoinDementiaResearch on @madeinbristoltv The 6 – 14.12.2015 Part 1 from 6.15 mins https://t.co/TSFl069IsS pic.twitter.com/rnCzEWiD48

— JoinDementiaResearch (@beatdementia) December 15, 2015
Deborah Evans, Managing Director of the West of England AHSN, also spent time helping out when the bus visited Bristol and did a quick interview with Made In Bristol TV.
The tour was masterminded by Charlie Procter, NIHR Clinical Research Network: West of England and Jane Makin, Avon & Wiltshire Mental Health Partnership NHS Trust. Charlie said: "There was an amazing response from local people, whatever the weather in December. So many people we spoke to had been touched in one way or another by dementia that they were really keen to help out and register.
"Dementia research is critically important. It can help people living with the condition now, as well as helping to prevent people from developing dementia in the future.
"There are currently 10 dementia research studies being conducted in the West of England and this boost to local registrations will make it easier for these studies to recruit participants. We are always grateful to patients, care givers and healthy members of the public who volunteer to take part in these studies so that we can improve the quality of life of people diagnosed with this condition and their families."
Laura Phipps of Alzheimer's Research UK, the UK's leading dementia research charity, said: "Join Dementia Research is a great opportunity for people to play a role in pioneering research to defeat dementia. It's fantastic to see how supportive people in the West have been of Join Dementia Research and how willing they are to give their time to volunteer for studies.
"We hope that people in the region will continue to sign up to volunteer, and spread the word to their friends and family too. Dementia is a heart-breaking condition but research can make progress for everyone affected."
Dr Doug Brown, Director of Research and Development at Alzheimer's Society, said: "The tour bus is a fantastic way of enabling people to find out more about how they can get involved in dementia research. We are delighted that more people are being given the opportunity to take part in vital research. Not only is it essential for us to make progress towards new treatments and better care, but it could also empower people to learn more about their condition and benefit from additional support."
Register or find out more about Join Dementia Research here.  Alternatively, pick up a leaflet and registration form in more than 130 libraries throughout the West of England.
Posted on January 20, 2016
---