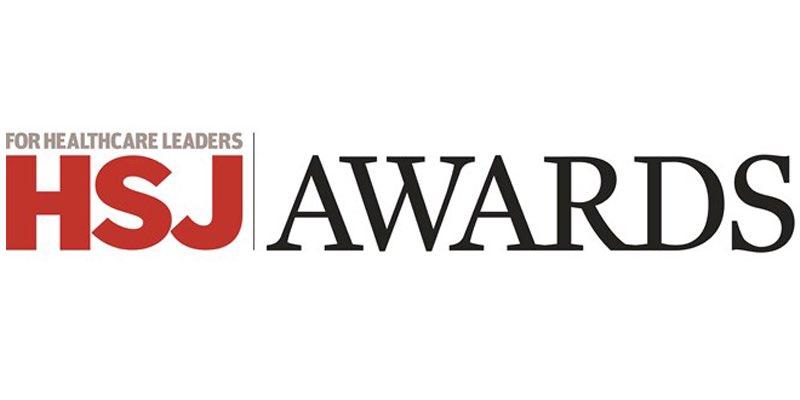 Recognising an outstanding contribution to improving and innovating healthcare, we are delighted to announce that the West of England AHSN is in the running for three 2020 HSJ Awards.
Shortlisted from over 1,000 entries, we are finalists in the following categories:
Workforce Initiative of the Year – PReCePT: Prevention of Cerebral Palsy in PreTerm Labour
System Leadership Initiative of the Year – ReSPECT: Recommended Summary Plan for Emergency Care and Treatment
Clinical Leader of the Year – Anne Pullyblank, Medical Director and Consultant Colorectal Surgeon.
The Prevention of Cerebral Palsy in PreTerm Labour (known as PReCePT) programme aims to increase awareness and knowledge among maternity and neonatal staff about the use of magnesium sulphate (MgSO4) as brain protection during preterm birth. It has engaged a wide range of clinical staff and established meaningful partnerships between patients/parents, clinicians and QI experts working together. Through PReCePT, women going into early labour before 30 weeks are offered magnesium sulphate, which helps to protect their babies' brains. As a result, fewer babies are likely to develop cerebral palsy, improving quality of life for both preterm babies and their families. A dose of magnesium sulphate costs as little as just £1.
In 2018 the Health Foundation funded the PReCePT, a randomised controlled trial, nested within the wider national programme, which aimed to find the best way to scale up the uptake of MgSO4 by comparing the effectiveness of two different QI approaches across a subset of maternity units. Findings from the PReCePT Study will provide evidence to inform best practice for future perinatal QI scaling up initiatives.
Dr Karen Luyt, Consultant and Reader in Neonatal Medicine, St Michael's Hospital, UHBW and PReCePT Clinical Lead, said:
"Traditionally, perinatal clinical care of mother and baby has been specialism focused and tribal, with clear boundaries between midwifery, obstetrics and neonatology. In the first PReCePT project we worked with midwives, obstetricians and neonatal teams and learned that to achieve optimal outcomes for the tiniest babies these three professions needed to function seamlessly as one perinatal team, focused on the best potential outcome for the baby.

"We are delighted to have been shortlisted for this award to recognise the meaningful partnership of patients, clinicians and QI experts who have collaborated successfully to reduce cerebral palsy and improving the life chances of preterm babies across the nation."
ReSPECT stands for Recommended Summary Plan for Emergency Care and Treatment. The ReSPECT process is about creating a personalised recommendation for someone's clinical care in an emergency situation where they are not able to make decisions or express their wishes. It was developed by the Resuscitation Council in partnership with patients and their families.
Commenting on ReSPECT, Anne Pullyblank, Medical Director West of England AHSN said:
"I am delighted that the ReSPECT programme has been shortlisted for this prestigious award. We have been working with Gloucestershire integrated care system (ICS) and Bristol, North Somerset and South Gloucestershire (BNSSG) sustainability and transformation partnership (STP) to implement the programme across our region since 2018 and we have seen incredible results. Now we are in a position where all acute hospitals in our area have adopted ReSPECT and we continue to share learning and training for health care professionals on the programme.

The COVID-19 pandemic at the beginning of the year brought with it extra resonance for the ReSPECT programme. During the pandemic registered nurses in nursing homes were trained to have  ReSPECT conversations  and enable them to complete forms for residents unable to see their GP. This shows the incredible adaptability and planning from all frontline teams  who delivered the Respect process across the system.

We are proud of what we have achieved, most importantly to give dignity to end of life care planning and enable people to feel ownership of their own care."
Anne has also been shortlisted in her own right as an outstanding clinical leader. A driving force in our Patient Safety Collaborative Anne is a committed advocate for the use of data and research in our work, and has published numerous articles in peer reviewed journals. Her energy, knowledge and passion have underpinned the success of the Emergency Laparotomy Collaborative and the PreciSSIon (Preventing Surgical Site Infection across a region) projects which have used a quality improvement approach and achieved significant measurable improvements in patient outcomes. She also played a pivotal role in the success of the ReSPECT programme.
Natasha Swinscoe, Chief Executive of the West of England AHSN commented;
"Making the final shortlist for an HSJ award is always an honour, but being shortlisted for three in the same year is fantastic, and testament to the hard work of the team at the West of England AHSN.  Together our team and our members work to create the space to bring organisations together on shared ambitions, to share learning and make a genuine difference for patients.

"The two shortlisted programmes rely on a collective, system wide approach, and are testament to the strength, energy and collaborative spirit of our network. Anne, shortlisted for her clinical leadership, is one of our most energetic and dynamic natural collaborators. Anne brings intense focus and a real depth of clinical experience to our leadership team, and like the two programmes nominated alongside her, inspires confidence and respect across our local system."
Now in its 40th year, the HSJ Awards is the largest annual benchmarking and recognition programme for healthcare. Through a rigorous, fair and transparent judging process the awards produce a roll call of the best organisations, teams and people in the NHS and the wider health sector.
The full list of finalists for the 2020 HSJ Awards can be found on https://awards.hsj.co.uk/2020-shortlist.
Winners will be selected ahead of the ceremony, which will take place virtually in March 2021.
Posted on November 18, 2020
---