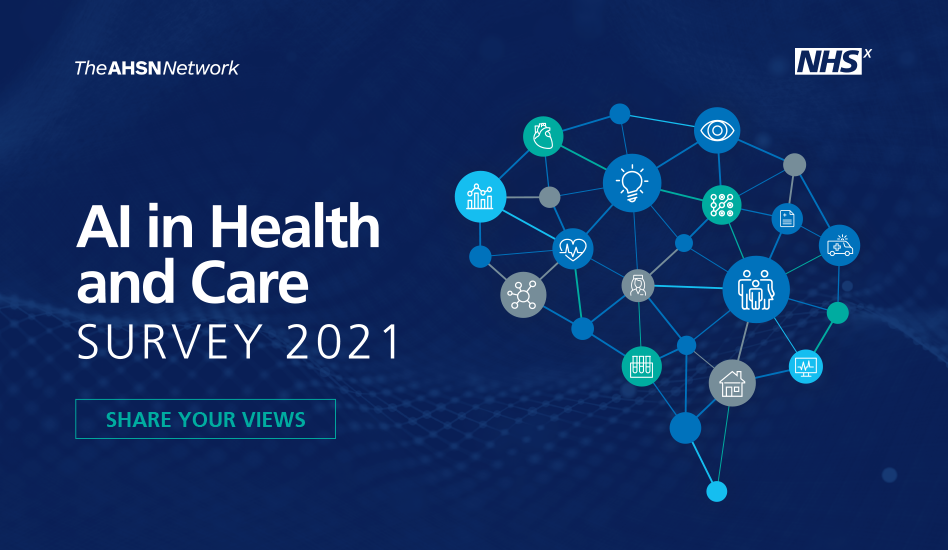 Want to have your say on the adoption of AI in health and care? The 2021 AI Health and Care Survey is now live and asking for input from digital health innovators, developers and those procuring and implementing AI-driven technologies for health and care.
Individuals and organisations working across health, social care and the life sciences are being asked to share their perspective on the maturity of the AI landscape and feedback on the work of the NHS AI Lab.
The survey, from the NHS AI Lab (NHSX) and supported by the AHSN Network, will help us identify core developments within the AI space, understand the settings AI-driven technologies are being developed for, as well as the importance of education, medical classification, ethics and wider system support for the deployment of these technologies.
Dr Indra Joshi, Director of AI at NHSX, says findings will inform the future work of the NHS AI Lab, and urged both innovators and commissioners of AI-driven technologies to take part:
"The response to the COVID-19 pandemic has highlighted ways in which digital and AI solutions can support the NHS and care workforce to deliver care at times of increased pressure.
"AI-driven technologies are delivering on their potential to improve outcomes for patients and free up staff time for care, and their uptake is likely to accelerate in the years ahead.
"The NHS AI Lab is committed to accelerating the safe, ethical and effective adoption of AI in health and social care. This survey enables commissioners and innovators to help inform the Lab's work so the UK continues to be a leading place to develop and test AI-driven technologies at scale for use in health and care."
The survey builds on findings from the 2018 survey, which looked to understand what AI-driven technologies were being developed, and the 2019 survey, which investigated where AI tools are being developed and what problems they are solving, as well as collecting information on the data and regulatory landscape.
Both previous AI surveys resulted in new resources and guidance being created for the AI community, including the AI: How to get it right report, the creation of a Code of Conduct (now the Guide to Good Practice for Digital and Data-driven health and care technologies) for those developing and commissioning AI tools, and the Buyer's Guide to AI in Health and Care to help developers and commissioners understand procurement requirements.
Posted on January 13, 2021
---