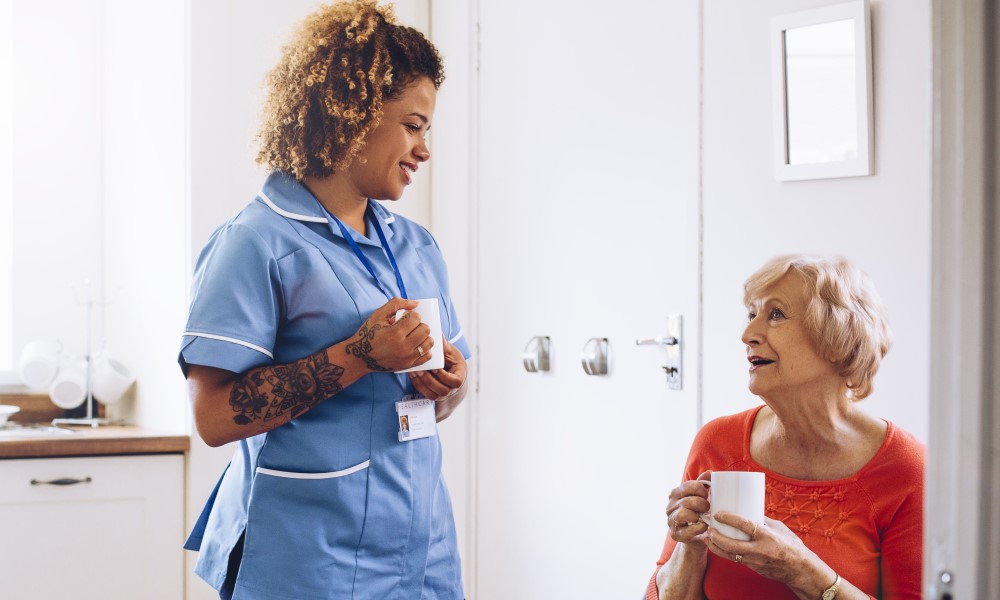 A new evaluation programme has started in the South West to test the potential of artificial intelligence (AI) logistics technology, which aims to transform planning for providers of domiciliary social and health care and improve the working lives of their staff – and ultimately, the quality of service provided to patients in their own homes.
Delivered in partnership by the West of England and South West AHSNs, Health Education England, Bristol City and Cornwall Councils, the Domiciliary Care Workforce Programme is running two pilot schemes in Bristol and Cornwall.
The aims of the pilots are to reduce travel times, increase the capacity of the workforce and improve the working lives of care workers by using technology to better plan schedules. As a result, it is hoped that this could lead to greater carer continuity and person-centred care, improved relationships with care workers, and shorter waiting lists for home care.
Following an open call last year for solutions that might ease the increasing pressures on the domiciliary care workforce, Finnish company Procomp Solutions Ltd was selected as the innovation partner for the programme.
Procomp has a strong track record in logistics planning and optimisation, and around 75% of retail food distribution in Finland is organised using their systems. In 2011 they spotted the potential of their systems for the home care sector, and now support around a third of the Finnish home care workforce.
Through tailored use of their AI-based logistics solution, R2 Optimisation, Procomp has achieved positive results in Finland and Benelux countries, reducing care worker mileage by up to 40% and improving workforce utilisation by more than 25% with no reduction in care for service users.
The Domiciliary Care Workforce Programme is testing three different scenarios, each of which aims to reduce the distance travelled by care workers and increase their capacity.
The first scenario explores increased flexibility around start times and enabling a flatter demand throughout the day and avoiding the usual peaks and troughs. The second will focus on the density or spread of home care providers and how providers might better collaborate to deliver services. The final scenario will look at integration to consider how health and social care providers more generally can work together better.
Mark Russell-Smith, Director of International Operations for Procomp Solutions, said: "We're really pleased to have been selected to support the Domiciliary Care Workforce Programme, and through these pilots we'll be looking to find improved ways of commissioning and organising home care using our AI logistics solutions.
"We've been working with the care home sector in Finland, Belgium and the Netherlands, and we're excited to now be working in the UK for the first time with the support of the AHSNs. In order to make real changes, you need an end-to-end and system-wide view, and that's exactly what we get through this innovative programme."
Roger McDermott, Senior Programme Manager for the West of England AHSN, commented: "The demand for the provision of health and social care within people's own homes has never been greater, but there are very high pressures on this workforce. Having the right staff in place, with the right skills, is essential to ensure that domiciliary care services can operate effectively. It is demanding work, both physically and emotionally, and staff are often working remotely, autonomously and under huge time pressures.
"There is huge potential for technology to radically transform how we deliver domiciliary care services, and in addition to the benefits for both care providers and staff, we believe there are also significant opportunities to improve our environmental impact through this programme by reducing workforce mileage."
Maja Luna Jorgensen, Programme Manager at the South West AHSN, said: "We're really pleased to be working with Procomp Solutions and the West of England AHSN on testing the use of artificial intelligence as a means to improve and transform planning for domiciliary care providers and their workforce. There is a huge need for domiciliary care here in the South West, which is compounded by the logistical challenges presented by our rural and coastal environments. We are interested to see what solutions the scenarios tested throughout this programme will generate and the impact that they can have on the workforce."
The Domiciliary Care Workforce Programme pilots will run in Bristol and Cornwall through to autumn 2023, and a full evaluation report is due to be published by early 2024.
Find out more about the Domiciliary Care Workforce Programme here. 
Communication and reports
We will produce regular updates on progress and a final evaluation report by the end of 2023. If you would like to be informed of these, please sign up below.
Complete this form to sign up for the latest reports and updates on this programme
Posted on September 7, 2022
---