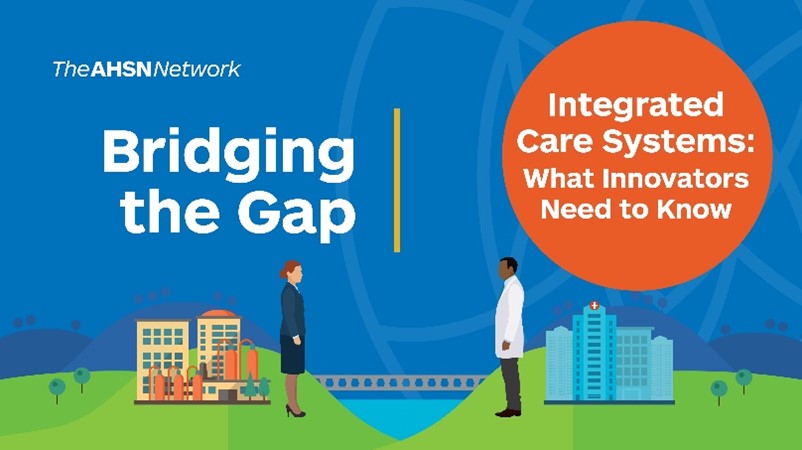 Calling all health and technology innovators!
Would you like to improve your understanding of Integrated Care Systems (ICSs)? Are you keen to adapt your innovation to this evolving landscape?
On 22 March 2023, the South West AHSN, along with West of England, Wessex and Kent Surrey Sussex AHSNs are hosting the AHSN Network's flagship Bridging the Gap Event at Sandy Park Conference and Events Centre, in Exeter. The event is free of charge for innovators.
The line-up of keynote speakers has now been announced, including;
Dr Matt Whitty, Director of Innovation, Research & Life Sciences at NHS England
Dr Nigel Acheson, Chief Medical Officer, NHS Devon
Christina Farrow, Deputy Director for Innovation at NHS England
See the full line up and secure your place today!
We will also be hosting two panels: the first will be a chance for delegates to ask successful innovators about their experience working with the ICSs; and the second an opportunity to ask ICS leaders questions themselves. We have speakers confirmed from a senior level in local ICSs, as well as Innovators who have successfully adapted their innovation to fit the ICS landscape.
Our confirmed innovators are:
Amy Manning, S12 Solutions
George Brighton, MySunrise
Philippa Kindon, Mayden
John Cooling, Whzan
Carey McClellan, GetUbetter
Our senior ICS leaders are:
Dan Corfield, Associate Director ICS Programmes, Gloucestershire ICB
Vikki Hearn, Joint Strategic Commissioner Children's and Health
Allison Nation, Associate Director: Digital Strategy, Somerset ICB
Ashleigh Boreham, Deputy Chief Officer Strategy and Transformation, Dorset ICB
A series of workshops will be taking place throughout the day, including:
Developing a compelling business case
Understanding evaluation and your innovation's impact
Addressing health inequalities: the critical role of innovators within integrated care
Net Zero: Creating impact from innovation within integrated care
We will have a dedicated exhibition space for our partners in the health and care sector, offering innovators support in working within integrated care. These include:
NIHR
AAC
AHSN Network
National Innovation Service
Innovate UK
Granted Consultancy
Medilink
ORCHA
Alongside speakers, panel sessions, workshops and the exhibitor zone, the event will also provide attendees with the opportunity to take part in a 1:1 mentoring session* with industry experts from across the AHSN Network.
Secure your place here and find more details on how to sign up for workshops and 1:1 mentoring sessions.
*1:1 mentoring sessions are subject to availability and will be booked on a first come first serve basis.
Posted on February 9, 2023
---