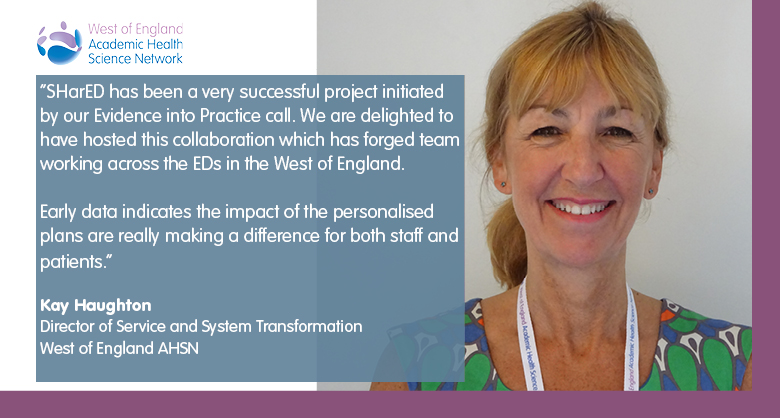 As the AHSN's funding for the SHarED (Supporting High impact users in Emergency Departments) project starts to come to an end, 35 weeks since the official launch in August 2020, a second workshop was held on the 8 April.
All Emergency Department (ED) teams in the West of England region were given the opportunity to present on their excellent progress in setting up and/or improving their High Impact User (HIU) Service in their EDs.
"The [SHarED] project has meant patients in ED get faster specialist support. The management plans have hugely supported staff to have the right information at the right time, ensuring our patients get the right care and support."
Staff member at Gloucestershire Hospitals NHS Foundation Trust.
Interim findings
The full benefits of the SHarED project are yet to be realised, and will be clearer upon completion of the project evaluation, however the benefits felt to date are far-reaching and include:
127 High Impact Users have been engaged so far across the five adopting Emergency Departments;
Over 200 staff have been trained in the management of High Impact Users;
Improved staff experience when managing High Impact Users and a significant rise in training provision (see SHarED Staff Survey PDF for further details);
Raised profile of the High Impact User Teams and
A more efficient, organised and standardised service.
"Thank you to SHarED and to the West of England Academic Health Science Network and particularly to Jo (SHarED Coach), whose been there at the end of the line to support our every query and when we've come up against a challenge. It's made a huge difference and so I already feel that patients have benefitted massively and we really want to carry on."
Dr Sarah Harper, Clinical Lead, Gloucestershire Hospitals NHS Foundation Trust.
Kay Haughton, Director of Service and System Transformation at the West of England AHSN said:
"SHarED has been a very successful project initiated by our Evidence into Practice call. We are delighted to have hosted this collaboration which has forged team working across the EDs in the West of England beyond the initial scope of the project.

Early data indicates the impact of the personalised plans are really making a difference for both staff and patients."
What's next?
With funding coming to an end, all teams are now in the process of developing their business cases for ongoing funding.  If teams are successful, the West of England Academic Health Science Network will look to continue to support the teams as they transition in to a self-sustaining High Impact User Community of Practice; enabling ongoing shared learning and provide an opportunity to discuss complex or joint cases.
A final workshop will be held in the summer to celebrate all that has been achieved to which a wider audience will be invited.
We also look forward to the final results of the evaluation, which are anticipated to be complete in autumn 2022.
"We're really grateful for this funding because it's given us time and space to be able to use that enthusiasm, to use that identification of the problems to take the next step of the project that we'd already started but not quite been able to see the potential of."
Dr Natalie Whitton, Clinical Lead, Great Western Hospitals NHS Foundation Trust. 
If you would like to learn more about SHarED, please click here or watch our video below:
Posted on April 27, 2021
---