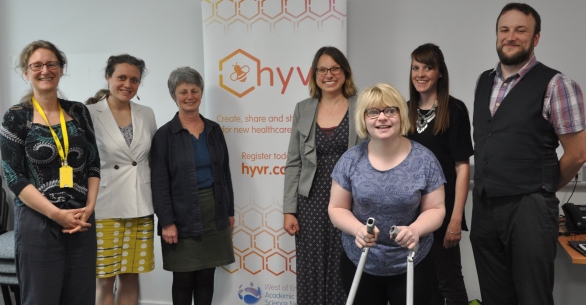 We're pleased to announce that we have chosen four exemplar voluntary sector initiatives to receive expertise and funding support, allowing them to use hyvr to power community engagement.
This extra support will allow each organisation to broaden links with their communities through hyvr, encouraging collaboration and information sharing, as well as exploring the possibilities that the social media channel brings.
The four exemplar projects:
Knowle West Media Centre (KWMC) and the National Institute for Health Research Collaboration for Leadership in Applied Health Research and Care West (CLAHRC West)
KWMC are working with CLAHRC West on the redesign and roll-out of physical activity guidelines. Much of the work on the content of the new guidelines is being carried out at the University of Bristol, but the objective in using hyvr is to engage clinicians and practitioners in discussion about how best to communicate the guidelines. KWMC are also planning to use hyvr to consult potential users around assistive technology, to help identify and clarify potential needs.
The Care Forum
The Care Forum help to empower users of care services and get their voice heard. They have found that while they have access to a lot of statutory partners and find that meetings with them can stimulate lots of ideas, maintaining momentum and developing these ideas can be a struggle. They see hyvr as a tool that may be able to help with this. Initially they want to use hyvr to support two particular projects. One is developing a mental health strategy with Bristol, North Somerset and South Gloucestershire CCG. The second is developing ideas around frailty with Bath and North East Somerset CCG along with Swindon and Wiltshire.
The West of England Nature Partnership (WENP)
WENP are going to use hyvr to help establish a Practitioner Network for Nature, Health and Wellbeing. The organisation is looking to mainstream 'Green Care' – lifestyle choices, preventions and interventions that, through engagement with nature, support people's health and wellbeing while stewarding our natural environment. They want to build an active community of practitioners, so will use hyvr to provide a space for them to collaborate and widen their engagement.
Golden Key
Golden Key plan to use hyvr to gather diverse insights and co-produce solutions as part of the 'Golden Key' multi-organisational project across Bristol. The initiative supports hundreds of vulnerable people in Bristol with complex needs.  One initial area of focus will be co-designing new multi-agency meeting structures. They are looking to use hyvr to redesign these meetings in way that makes them more people-centred, so gathering ideas from service users will be central to their work.
Jo Bangoura, Senior Project Manager for hyvr commented: "We are delighted to work with some fascinating and innovative projects, and to welcome a new community of engaged users to hyvr. All of these projects centre on the collaboration and engagement of participants and we'll be watching closely to learn what works best. We're excited to to see where this collaboration will take hyvr."
The projects will receive support until February 2020. They will all be looking to promote hyvr and find ways to collaborate beyond the projects outlined above – they even plan to set up a mutual support 'hive' to share their experiences.
If you'd like to get in touch about using hyvr to support your work or engagement then drop a line to admin@hyvr.co.uk
Posted on May 29, 2019
---