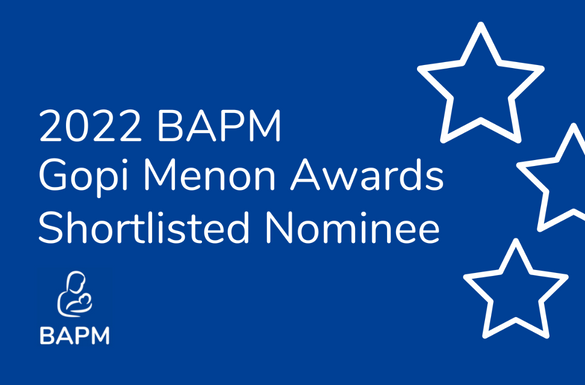 There are celebrations for the PERIPrem team and maternity and neonatal units across the South West after the project was shortlisted at the 2022 BAPM Gopi Menon Awards.
PERIPrem, our project run in partnership with South West AHSN and South West Neonatal Network to introduce a new perinatal care bundle to improve outcomes for premature babies, is a contender in the best national/ regional project category.
Mary Leighton, Network Manager, South West Neonatal Network said: "Perinatal services across the South West have worked with great passion to implement the PERIPRrem Project in order to support improved outcomes and experiences for infants and families who journey through neonatal services. We are so proud to be part of a team of such dedicated, caring professionals."
The annual BAPM Gopi Menon Awards recognise outstanding contributions in perinatal care and celebrates teams and individuals that have gone above and beyond in big and small ways. They aim to recognise people that go out of their way to make things better for their patients and colleagues.
Lauren, a PERIPrem parent said: "I truly believe that this package saved my boys' lives, and without it I'm not quite sure where we'd be now. But because of PERIPrem I have two (17-week-old) beautiful little boys who are just starting to smile, and that is down to PERIPrem."
At the 2021 HSJ Patient Safety Awards, PERIPrem was highly commended as the Patient Safety Pilot of the Year. PERIPrem was also shortlisted for Provider Collaboration of the Year at the 2021 HSJ Awards.
The BAPM Gopi Menon Awards will take place on September 15 2022.
Posted on August 8, 2022
---