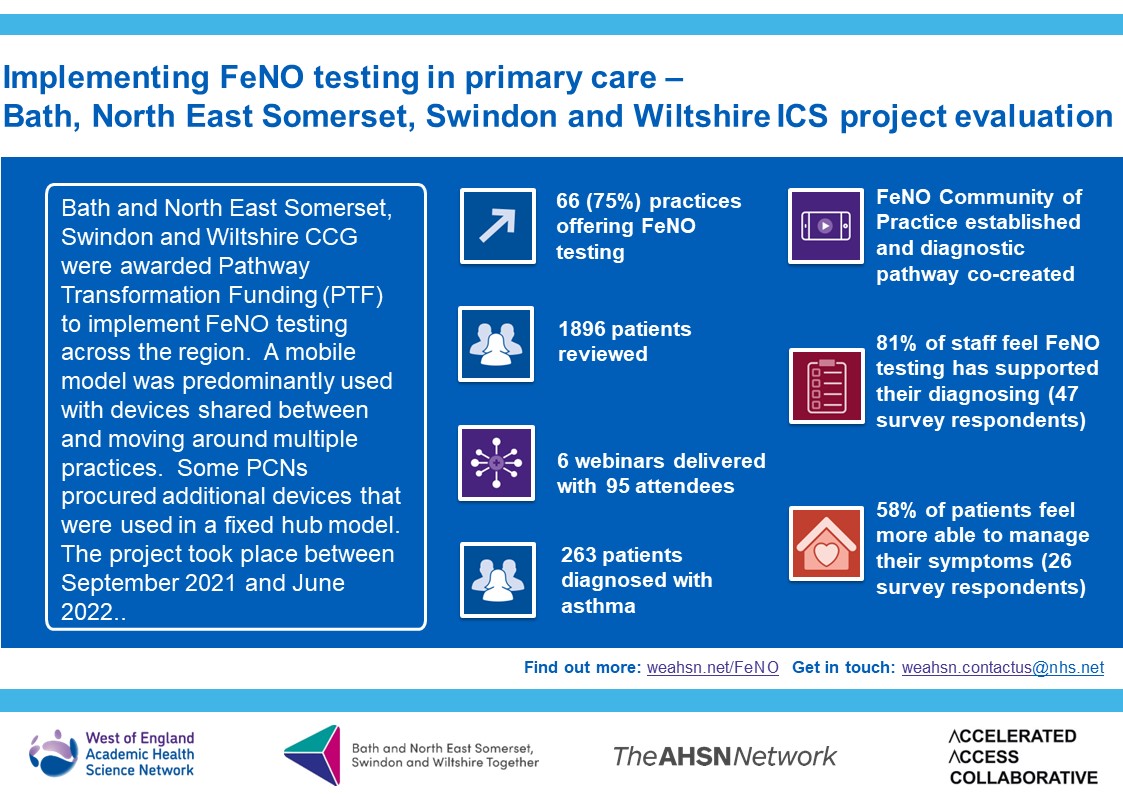 A new evaluation has found more patients in Bath and North East Somerset, Swindon and Wiltshire (BSW) are receiving faster and more reliable diagnoses of asthma thanks to an ambitious project designed to ensure adoption and spread of proven innovative products.  A system wide project, led by the West of England AHSN, took place between September 2021 and June 2022, to rollout FeNO devices in a mobile model across the region. The project resulted in 1,896 patients receiving a FeNO test.
FeNO testing is part of the Rapid Uptake Products (RUP) programme to increase uptake of NICE approved products.  FeNO devices measure fractional exhaled oxide in the breath of patients, which provides an indication of the level of inflammation in the lungs.  This can be used to aid in the diagnosis of asthma.  It is a quick and easy test that can be carried out by any healthcare professional that has received training. Benefits of FeNO testing include:
improved speed and accuracy of diagnosis for patients suspected of having asthma
improved patient care and outcomes, reducing the risk of exacerbations and hospital admissions
reduction in inappropriate prescribing and referrals to secondary care
Prior to this project, FeNO testing was not available in primary care settings in BSW and therefore wasn't always easily accessible to patients.  The project aimed to provide access to FeNO testing in every practice in the region, using a mobile model with devices shared between and moving around multiple sites.  Several Primary Care Networks (PCNs) procured additional devices that were used in a fixed hub model to better meet the needs of their patients and hubs are being considered further following the evaluation.  The project evaluation has found 75% of practices are now offering FeNO testing, which has improved access and reduced travel for patients, with over 80% of patients travelling less than 3 miles for an appointment.  Between September 2021 and June 2022, 1,896 patients were reviewed, with 263 receiving a diagnosis of asthma.
The West of England AHSN supported the application for Pathway Transformation Funding to enable the purchase of FeNO devices and mouthpieces, in addition to backfill for local clinical leads to champion the project in their area and provide support to practice staff.  Bath & North East Somerset Enhanced Medical Services (BEMS) led on the co-ordination of resources and transport in their area.  Project management support was provided by the AHSN to monitor the project timeline, collect and analyse data and record risks and issues.  A new pathway and surveys were co-created and regularly reviewed to measure and continuously improve staff and patient experience of the new service.  As part of the AHSN's regional FeNO Programme, it co-ordinated the delivery of FeNO testing education webinars that were open to healthcare professionals across the West of England to 95 delegates.
"The FeNO project has been hugely successful and highly appreciated by the staff and patients in primary care.  There has been loads of learning on the way supported by truly dedicated and passionate clinicians."
Louise Abson, GP Partner Widcombe Surgery and BSW ICS Clinical Lead Planned Care
"It has been great to work collaboratively with the Integrated Care Board, BEMS and so many clinicians on this project.  Implementing FeNO testing in over 60 practices has been such an achievement and wouldn't have been possible without the support and hard work of primary care staff.  The data from this evaluation demonstrates how patients are benefitting from improved access to FeNO testing."
Charlotte Hallett, Senior Project Manager, West of England AHSN
Posted on October 25, 2022
---