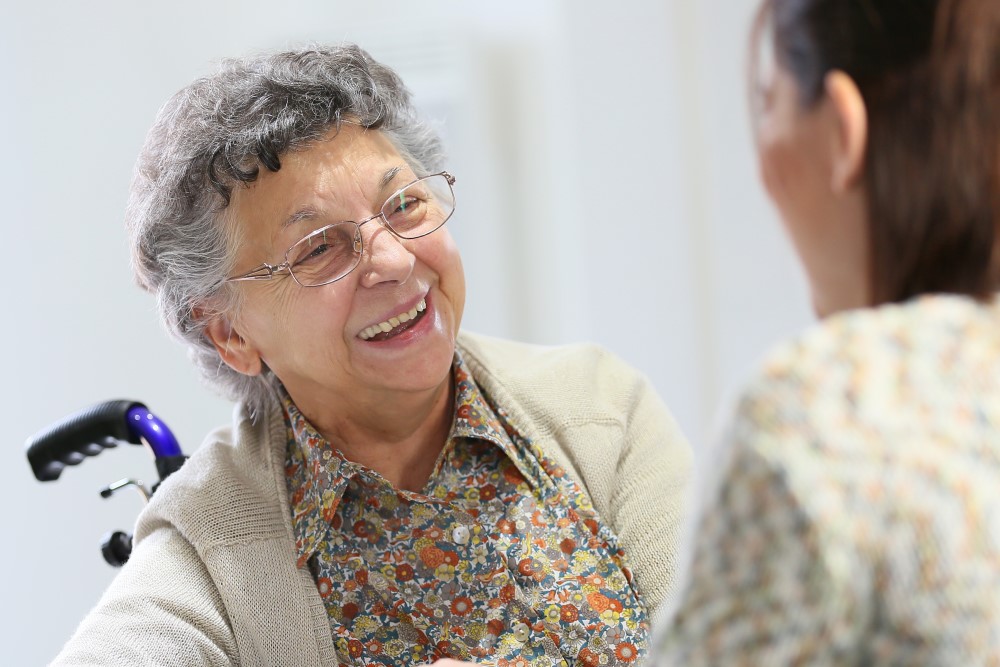 Evaluation of a new frailty pathway being piloted in South Gloucestershire shows patients feel less isolated and better able to manage their health as a result of the service.
The Yate & Frampton Primary Care Network (PCN) have implemented a new frailty pathway, which better supports frail patients by considering a more holistic and person-centred approach, ensuring that individuals get the care they need.
Research suggests that housebound and frail patients are less likely to access the care they need despite having higher rates of co-morbidity, functional impairment, and mortality than their non-housebound counterparts.
The new frailty pathway involves care coordinators visiting patients in their homes and discussing what matters to them, ensuring they are involved in decisions relating to their healthcare needs. This proactive and anticipatory approach aims to empower patients to take control of their health as well as avoiding unnecessary secondary care attendances or admissions.
The frailty pathway was developed in collaboration with clinicians from the Yate and Frampton PCN, the West of England Academic Health Science Network (AHSN) and partners in the Bristol, North Somerset and South Gloucestershire (BNSSG) Integrated Care System, with a service impact evaluation by Unity Insights.
Unity Insights conducted a qualitative and quantitative analysis, along with producing a health economic model detailing the costs and potential benefits of the new service.
The evaluation found that 71% of patients say the new frailty service has helped them to better manage their health and two-thirds felt less isolated. 90% of staff felt patients' quality of life had improved, while 89% of staff agreed that the pathway enables shared decision-making.
Key benefits from the evaluation report included a reduction in GP home visits and practice nurse appointments, a reduction in non-elective admissions and length of stay, and a reduction in A&E attendances.
While it was found that overall the service was not cost-effective during the first six months, cost savings were found in five of the six benefit streams identified. The volume of patients seen would need a significant increase for the service to be viable and sustainable.
Four recommendations were identified to improve the project, including better understanding issues of capacity that limited how many patients could be seen in a day, improving communication and awareness raising, comparing outcomes with patients who had declined the service, and a continuation in monitoring patient experience and feedback.
Dr Andrew Appleton, a GP at Courtside Surgery in Yate and Chief Clinical Information Officer for BNSSG Integrated Care Board, said: "Yate and Frampton PCN was very pleased to see that the evaluation of the first six months of the Frailty Pilot has shown the service had a significant impact on patients who engaged with it, with the majority reporting the service helped them better manage their health and made them feel less isolated. It was good to see it achieved the aims of reducing admissions, length of stay and A&E attendances, as well as GP home visits and nurse appointments, although other GP contacts increased.

"The evaluation covered a period when the service was still being set up, and we are now planning a further evaluation to review how it is performing now it is more established. We are hoping that with an increase in contact rate we will find it will become cost effective."

Roger McDermott, Programme Manager at the West of England AHSN, commented: "It was a great collaborative effort, with everyone involved in the development of the frailty care pathway. It's fantastic to see such positive feedback from patients and care co-ordinators alike. I had the privilege of spending a day with a care co-ordinator and witnessing the impact of the service first-hand. It's clear that this proactive approach to caring for housebound patients is making a real difference to people's lives, and we're delighted to have been a part of it."
The Yate and Frampton PCN will keep delivering the frailty service through to March 2024. Further evaluation will be carried out (and available in early 2024) to inform potential ongoing continuation of the service.
If you are interested in finding out more about this project and its findings, please contact Rachel Ind, Yate and Frampton PCN Manager at rachel.ind@nhs.net.
Posted on May 5, 2023
---