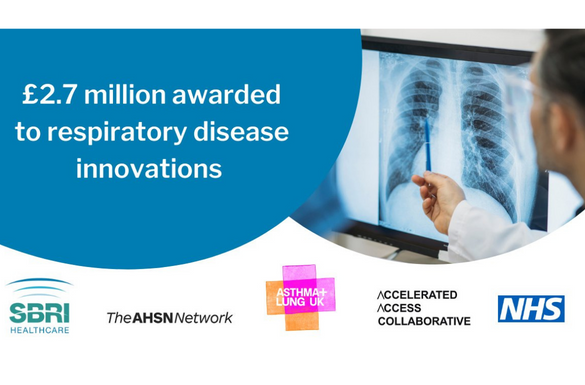 my mhealth – a company which provides digital therapeutic platforms to support the management of long-term health has been awarded a share of £2.7 million in funding from SBRI Healthcare to support people with respiratory diseases.
The company, which received bid writing support from the West of England AHSN to secure the funding, was one of six successful awardees in the competition, which aims to support late-stage innovations that help to detect, prevent and manage respiratory disease.
The SBRI Healthcare 'Competition 21, Phase 3 for Real-world Testing and Implementation: Respiratory Diseases' sought innovations that focused on early diagnosis – in both adults and children – of respiratory diseases, monitoring and management, and access to the right care at the right time.
With up to half of all hospital beds being occupied by patients with respiratory illnesses, supporting discharges, preventing disease exacerbations and readmissions is key to ensuring the NHS can manage the growing number of patients needing help.
The funding awarded to my mhealth will be used to support a research study focused on use of the myCOPD app to assess impact on readmission rates. This study will be held in the two acute Trusts in the Bristol area where the AHSN has been working with NHS Trusts and Primary Care Networks to rapidly pilot use of the app with support from digital health champions. A second element of the funding relates to pulmonary rehabilitation in Cornwall.
"We are thrilled to have been awarded this funding by SBRI Healthcare, which will allow us to accelerate the adoption of our digital therapeutic platform", said Professor Tom Wilkinson, Professor & Honorary NHS Consultant Respiratory Medicine Southampton University Faculty of Medicine and my mhealth's Chief Science Officer and Co-Founder.
"myCOPD is a powerful tool and we are excited to work with healthcare providers in Bristol and Cornwall to demonstrate its impact on patient outcomes and reduce the burden on the NHS. We would like to thank the West of England AHSN for their support throughout the funding process and look forward to working with the NHS and other healthcare partners to bring our digital therapeutic platform to more patients".
Cheryl Scott, Industry and Innovation Lead at the West of England AHSN added: "We're delighted that my mhealth has been successful in securing this funding in order to support people with respiratory diseases and our health and care delivery partners in the West of England. We continue to provide support and look forward to seeing the impacts of the research study."
If you are a healthcare innovator looking for bid writing or wider business development support, visit our Innovation Exchange for expert advice, funding opportunities and to make contact with our team to access support.
Find out more about the COPD Digital CHAMP pilot project in the West of England here.
SBRI Healthcare is an Accelerated Access Collaborative initiative, in partnership with the AHSN Network.
Posted on January 31, 2023
---