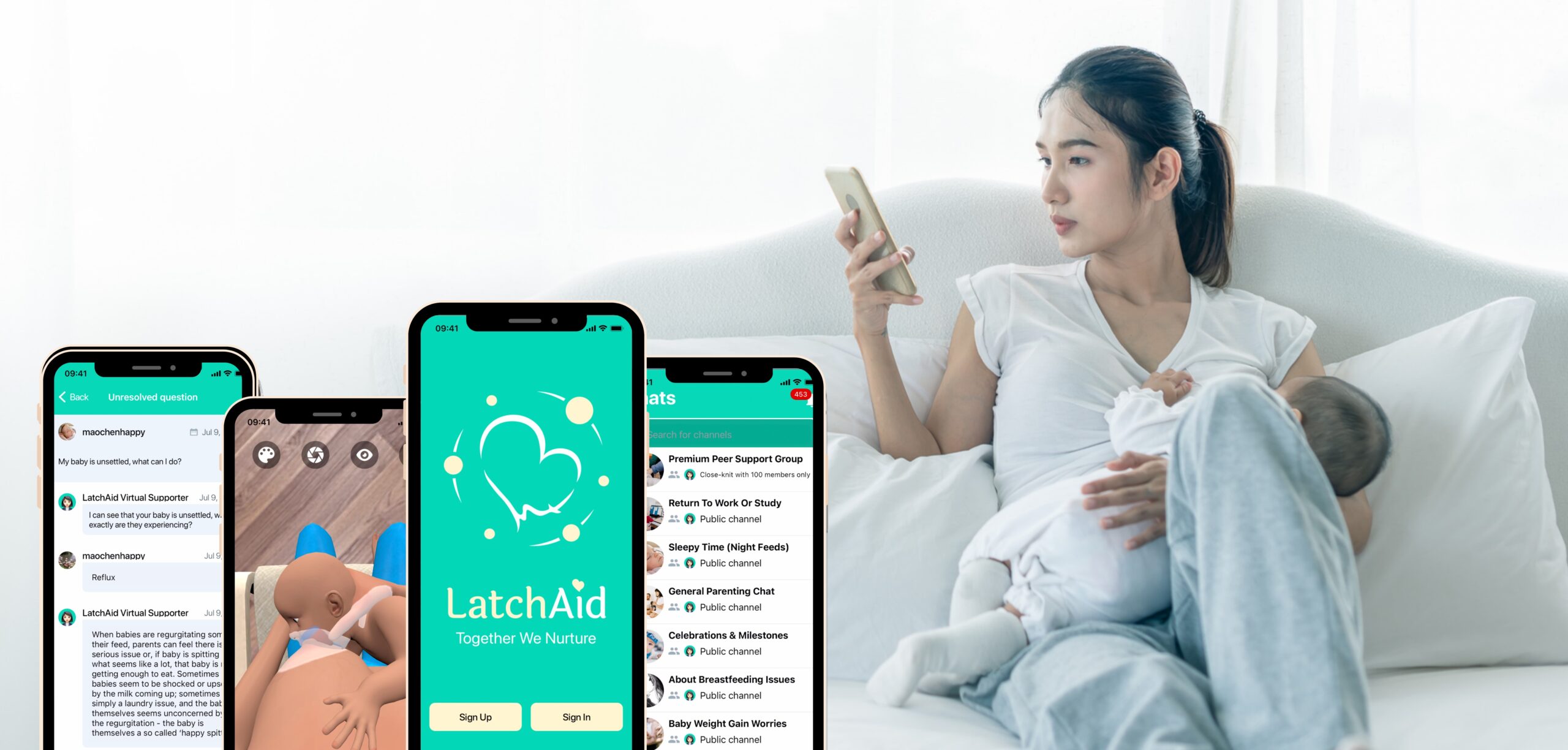 Gloucestershire-based LatchAid, the innovative breastfeeding support app which began its health innovation journey on our 2018 Health Innovation Programme (HIP), is now available on NHS prescription to new mums in select regions.
Dr Chen Mao Davies, a computer graphics and animation expert, developed the app following her own issues with breastfeeding.
Since successfully graduating from HIP three years ago, and with continued support from the West of England AHSN, Dr Davies has led LatchAid from strength to strength; co-developing her innovative solution with top infant, maternal and public health experts to help support other parents who may be struggling to breastfeed.
The LatchAid platform uses cutting-edge 3D interactive and AI technology to help parents who are having problems getting their baby to latch, to visually learn breastfeeding skills. App users can also join webinars and interact with Anya AI and lactation consultants to ask questions, as well as connect with others in a virtual peer support group.
During World Breastfeeding Week in August this year, LatchAid launched its new £9.99 app on the Apple App store, reaching a peak of number 46 on the site's medical category chart, which hosts more than 300,000 health apps.
Now, infant feeding specialists, midwives and health visitors can prescribe the premium version of the LatchAid app for free to all new parents (who are iOS users) across 12 different NHS Trusts and VirginCare, as part of a four-month NHS pilot. The project is funded through Q Exchange by the Health Foundation and NHS England and NHS Improvement, and the participating regions include South Devon and Torbay, Bath, North East Somerset, Swindon and Wiltshire, Gloucestershire, as well as Lancashire and South Cumbria.
The pilot will trial the effectiveness of the app in increasing breastfeeding, in order to explore the feasibility of using digital breastfeeding support alongside antenatal / postnatal services. This is following a review that found that [1]90% of women stop breastfeeding before they would like to, often due to pain or lack or health issues – costing the NHS £50m a year by excess appointments for babies fed on formula milk, who are more prone to illness. The hope is that the pilot will prove successful, leading to wider adoption and spread of the solution across the NHS.
Dr Davies said: "We believe that every mother and birthing parent deserves the support and empowerment to give their child the best start in life. This is at the core of everything we do."
Earlier this year, and with AHSN support, Dr Davies won the prestigious Innovate UK's Women in Innovation Award, and was recognised as one of the 'Top 40 Female Innovators in the UK', securing a £50,000 grant to continue development of the app.
Commenting on working with the West of England AHSN, Dr Davies said:
"The AHSN has been a huge support in my innovator journey: from the Health Innovation Programme in June 2018, to the ongoing support received since with regards to writing bids and securing funding opportunities, designing the NHS app pilot evaluation frame , connecting me to NHS maternity services and commissioners, and sponsoring us to exhibit at the HETT show in the London ExCel.
"I definitely would not be where I am now without their help."
[1] NHS England National Maternity Review
Posted on November 4, 2021
---