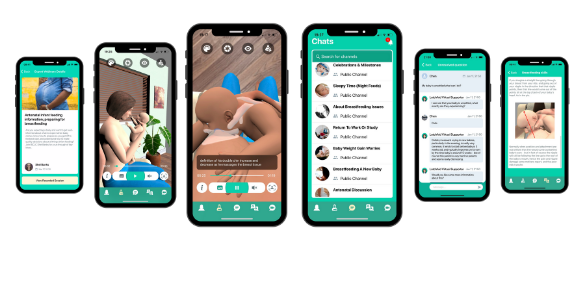 LatchAid, the Gloucestershire-based innovative breastfeeding support app, which began its health innovation journey on our 2018 Health Innovation Programme (HIP), has announced that it has closed its seed funding round with a £510k Innovate UK Innovation Loan, bringing total investments to £1m.
Dr Chen Mao Davies, who previously worked as a computer graphics and animation expert in the film industry, founded the app following her own struggles with breastfeeding, in a bid to revolutionise breastfeeding and early parenthood support.
The LatchAid platform uses cutting-edge 3D interactive and AI technology to help parents who are having problems getting their baby to latch, to visually learn breastfeeding skills. App users can also join webinars and interact with Anya AI and lactation consultants to ask questions, as well as connect with others in a virtual peer support group.
In the UK, 90% of mothers give up on breastfeeding before they want to, due to lack of support, pain/health issues, and feelings of isolation and depression. This can lead to breast infections, baby weight loss, postpartum depression and costs to the NHS.
Commenting on the round, LatchAid founder and CEO, Dr Chen Mao Davies, said: "As a Chinese female solo entrepreneur running a women's health business, it's not easy to find investment. But if you can find the right investors, great ideas and a great team will ultimately attract funding."
Dr Chen Mao Davies graduated from the West of England AHSN's Health Innovation Programme in 2018 and has since led LatchAid from strength to strength.
Last year, and with AHSN support, Dr Davies won the prestigious Innovate UK's Women in Innovation Award, and was recognised as one of the 'Top 40 Female Innovators in the UK', securing a £50,000 grant to continue development of the app. Other awards include a COVID-19 Fast Response grant; a Sustainable Innovation Fund grant; grants from NHS Improvement, UnLtd, the EU and the Health Foundation. It has recently completed a successful pilot with 12 NHS trusts and the HCRG Group across the UK, demonstrating positive health economic benefits.
Commenting on working with the West of England AHSN, Dr Davies said: "The AHSN has been a huge support in my innovator journey. I definitely would not be where I am now without their help."
LatchAid currently offers 24/7 digital support to users in 84 countries and is available to download on the App Store.
Posted on April 7, 2022
---