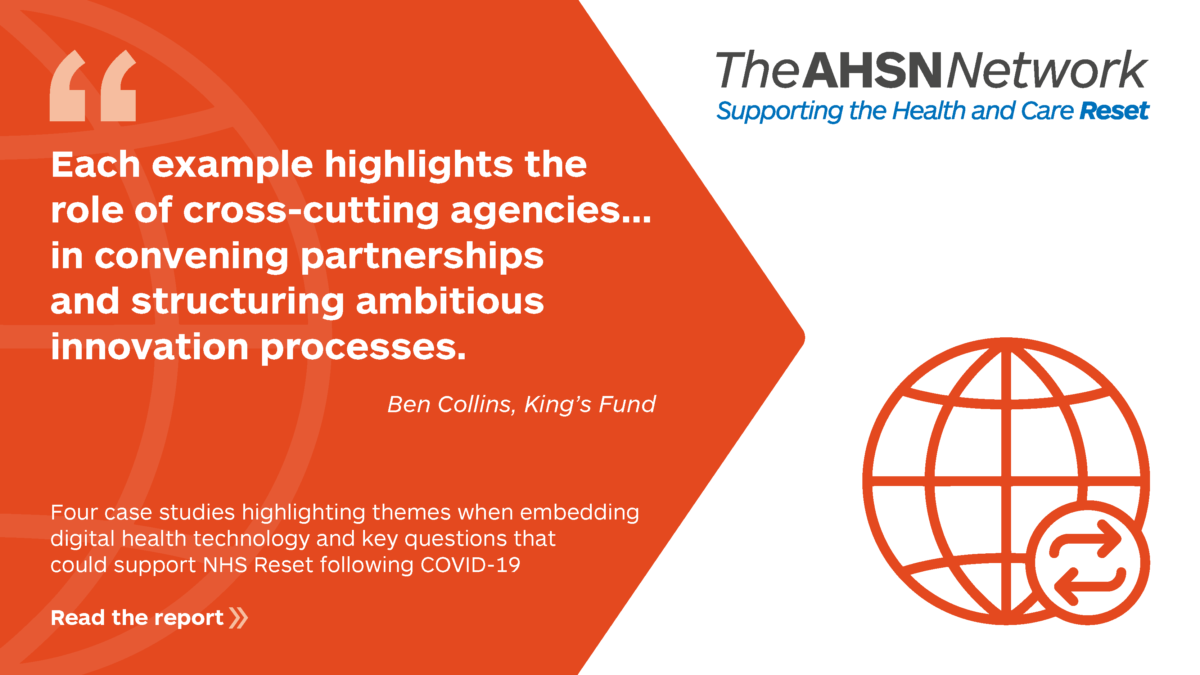 A new King's Fund report, part funded by the West of England AHSN, titled Technology and innovation for long-term health conditions uses four unique case studies to outline and discuss key themes of effective implementation of digital innovation.
AHSNs commissioned the King's Fund to explore four different digital innovations in health services from the UK and the Nordic countries in order to demonstrate transformative potential and compare and contrast themes across geographies. The paper acts as a continuation of the AHSN's commitment to learn from and take a collaborative approach to innovation transnationally with countries that form the Northern Future Forum (Denmark, Estonia, Finland, Iceland, Latvia, Lithuania, Norway, Sweden and the United Kingdom). This follows an initial Innovation Leadership Exchange event in September 2019, attended by senior leaders within health and care across the Northern Future Forum countries.
The paper also recognises the rapid uptake of digital innovation driven by the COVID-19 pandemic and outlines some of the questions services need to answer to sustain and implement digital technologies effectively going forward.
One of the case studies featured in the report is UK-based social enterprise, Patients Know Best who provide an online patient portal offering patients and health care staff a safe and secure way of exchanging information and giving patients access to their medical records.
One key feature of Patients Know Best's approach is to put patients in charge, ensuring that they can access all the information about themselves in real time. Patients decide who else can access their information and allow new health care staff to join their team when needed, for example, when a GP or accident and emergency staff need to see their care plans.
Patients Know Best have been supported by a number of regional AHSNs since 2016 and has been adopted in more than 70 NHS trusts in England and can be accessed by more than five million NHS patients.
Other case studies include:
TeleCare North programme, which provides remote treatment for people with chronic obstructive pulmonary disease (COPD)
Helsinki University Hospital' remote diabetes monitoring programme for children
Huoleti app that connects patients with a support network.
The case studies illustrate the potential of digital technology to transform care, particularly through empowering patients, supporting stronger therapeutic relationships and effective teamworking across professional boundaries, and creating networks and communities to support patients.
Some key areas of discussion highlighted in the report include:
Responsive services for unpredictable diseases
Technology-enabled teamworking
Relationships enabled by technology
Collaborative design
Iterative cycles of improvement
The paper also calls on health and care providers to assess the impact on staff and patients of the rapid transition to online services driven by the COVID-19 pandemic, to ensure changes are fully assessed and to question whether there is scope to be more ambitious in redesigning services.
Posted on August 3, 2020
---
Explore our free Academy resources to gain essential knowledge and skills for innovative thinking in healthcare. Our resources include events, toolkits and online training.
Explore the Academy