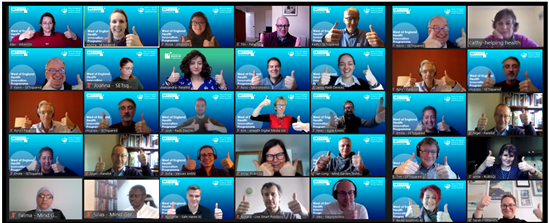 A new cohort of HIPsters has successfully graduated from the West of England AHSN's Health Innovation Programme (HIP), following its first virtual course in partnership with SETSquared – the global no.1 university business incubator.  
The HIP, now in its 6th year, is an intensive, fully funded, development course that helps entrepreneurs to develop business propositions with real potential to transform healthcare, and equip them with the core skills in entrepreneurship to take their propositions forward.  
Normally a four full-day live course, this November's programme ran across five virtual half-days, with a freshly designed fully cohesive course to suit the new format. As ever, SETsquared framed the business theory and the AHSN provided insight around practical applications in the NHS.  
15 innovators from 10 different companies were successful in securing a place, bringing a huge variety of business ideas to the table, ranging from tele-presence robots and prosthetic fitting software to a diagnostic and prognostic decision-support tool for neurologists.  
Rosie Brown, Innovation and Growth Project Manager at the West of England AHSN, said: "We are very excited about the innovators that attended the most recent HIP, they all have so much potential to make a real impact in the healthcare sector. We are looking forward to continuing to work with them and support them along their innovation journey."  
Over the past five years, a wide range of innovations and ventures have been supported by HIP – from apps to services that tackle mental health issues and promote wellbeing, a smart prosthetic socket, and an AI solution to help people live safely in their own homes, to a breastfeeding app, a toolkit to help support individuals with psychosis or bipolar disorder and resources to lower workplace stress.  
Feedback on the programme is always overwhelmingly positive, with HIPsters citing it as a valuable milestone in their innovation journeys – and this year's cohort could not agree more:  
 'We just wanted to send a massive thank you for allowing us to take part. We really enjoyed it and have made some serious steps forward in our thinking.'  
'Thank you so much for HIP – the content and delivery were excellent and it was brilliantly organised. We have been working hard to develop our business model canvas and really understand and segment our customers and value propositions over the past few months and the HIP came at a great time, and provided an excellent space for, and focussed time, to take a step back, reflect and discuss'.  
'The HIP course was superb, I feel so lucky to have got on it and the timing for us is perfect. Thanks!'  
…
If you are a healthcare innovator looking for business development support and tools, expert advice, information about funding opportunities, do visit our Innovation Exchange to access support and make contact with our team. Our doors are always open and we are here to help. To find out more about the HIP, and plans for future courses, contact Rosie Brown at Rosie.Brown@weahsn.net 
Posted on December 4, 2020
---