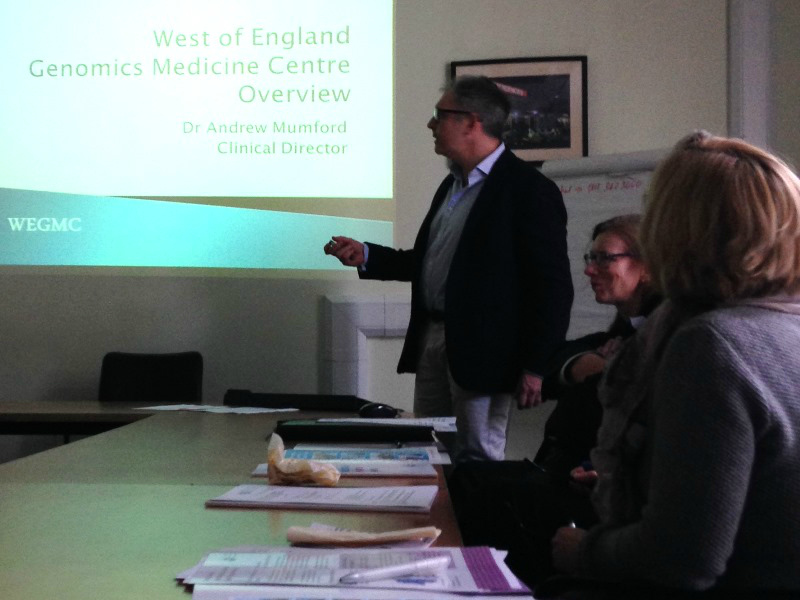 In January members of the public joined clinicians and other healthcare professionals to find out more about the new West of England Genomic Medicine Centre, which was announced in December.
The centre forms  part of the three-year national 100,000 Genomes programme to transform diagnosis and treatment for patients with cancer and rare diseases.
The event started with an introduction to the ambitions of the West of England Genomic Medicine Centre by Clinical Director, Dr Andrew Mumford from University Hospitals Bristol. Our aim is to complete whole genome sequencing of 4,650 samples from patients and their families in the region, and to integrate whole genome sequencing into standard clinical care pathways. You can see Andrew's presentation here.
There was then a lively discussion about how we can best engage people in getting involved with the work of the Genomic Medicine Centre, raise public awareness and support, and gather feedback from service users about their experience so we can improve and develop how we do things.
Adele Webb from Gloucestershire was one of the public contributors who attended the event. Adele said, "It was so good to be involved – I thought there was an excellent atmosphere, particularly one without barriers.
"There was broad and open dialogue between professionals, patients and public contributors, although we could have done with a few more members of the public. I really hope it's possible to get all those people back together not too far down the line, along with the others who weren't able to attend. There was tremendous potential there."
Hildegard Dumper, Patient & Public Involvement Manager for the West of England AHSN, added, "I was thrilled to be part of what I hope will be the beginnings of a dialogue between the Genomic Medicine Centre and patients and the public.
"The discussion we had was open and honest and it was generally agreed that it was important that the experiences of patients and the public help to shape the project as it gets rolled out. We are still working some of this out, so anyone who would like to be involved should get in touch."
Find out more about the West of England Genomic Medicine Centre here or email ubh-tr.wegmc@nhs.net.
Posted on February 1, 2016
---