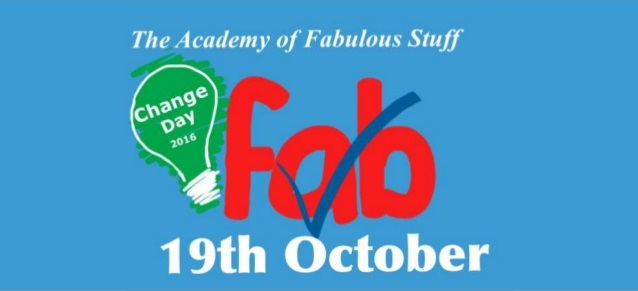 This year The Academy of Fabulous Stuff is joining with Helen Bevan's NHS Horizons Team to produce Fab Change Day, which takes place on Wednesday 19 October.
Change Day is about people: on the ground, in the front line of care, in the engine rooms, at their desks, in the labs, the porter's lodge, the operating theatres, the ambulances, estates and transport. It's about unlocking the potential of the NHS by asking people what works. What really works and how do we replicate it? To fathom the secrets of nimble and smart, the people doing the job need to be asked what it would take to help them do it better.
Here at the West of England AHSN, we're throwing our support behind Fab Change Day and getting involved in two ways: we're taking part in the Randomised Coffee Trial and backing the #FabDigital campaign.
Randomised Coffee Trial
In an era of electronic patient records and complex workloads, we are talking to each other less. We want to buck that trend and get people talking to each other again. So we are going to pair people up at random across the West of England AHSN, giving them the simple opportunity to have a cup of coffee (or tea or squash or whatever) and a chat together.
There a lots of benefits to Randomised Coffee Trials (RCTs), including breaking down silos, getting people to connect and learning from each other. Hundreds of organisations across the public, private and voluntary sectors have introduced RCTs with great results and we'd like to do it too.
Why don't you organise an RCT for your own organisation or network? Or take part in one of the national themed RCTs focusing on six key areas: mental health, dementia, staff wellbeing, patient safety, home first, learning and leading together.
#FabDigital
At our recent Digital Art of the Possible event, our key note speaker Deborah El-Sayed urged us all to get behind the #FabDigital campaign she has set up with Annie Coops. The idea is simple: for everyone to make a pledge to do something 'digital' on Fab Change Day, such as committing to learn a new digital skill, tackling that tricky process online you've been avoiding, or learning how to order your own repeat prescriptions online. A modern NHS should be digital – what part can you play? Find out more over on Annie Coops' blog.
And whatever you do on the day, make sure you tweet about it using the #FabChangeDay hashtag!
Posted on October 10, 2016
---