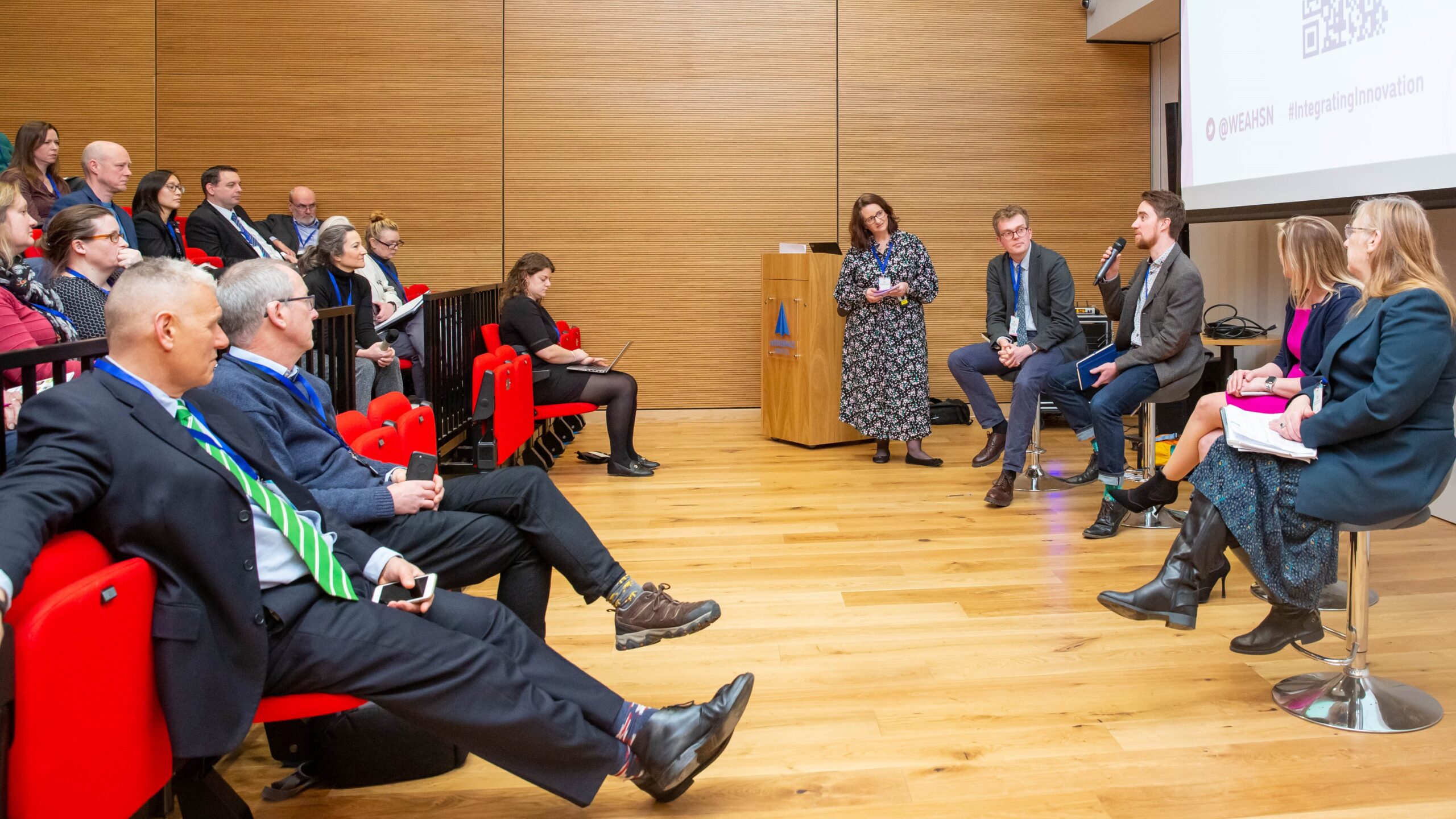 Earlier this month, we brought health and care leaders and innovators across the West of England and beyond together, to connect and collaborate at our Integrating Innovation conference.
Integral to the conference was our Innovation Zone – featuring some of the latest and most pioneering projects and collaborations in health and care settings across the West of England (and potentially beyond). Projects were laid out and grouped together according to the three main stages of our Innovation Pipeline – Discover, Develop, Deploy – bringing to life the innovation journey.
As part of a packed programme of insightful talks, panel discussions and networking opportunities, delegates were also offered the opportunity to attend a variety of workshop sessions. Chaired by Alex Leach, Acting Director of Innovation and Growth at the West of England AHSN, Co-creating a vibrant innovation ecosystem was one of the three workshops on offer, which explored ideas around what makes a strong innovation ecosystem.
Taking the format of an interactive panel discussion, panellists included: Ollie Watson, Joint Chief Operating Officer for Bristol Health Partners Academic Health Science Centre; Marty Reid, Interim Executive Director of the SETSquared Partnership; Gemma Pugh, Associate Director for BSW Academy; and Cheryl Scott, Industry and Innovation Lead at the West of England AHSN.
Questions posed included: What are the barriers to a vibrant ecosystem and how are we going to overcome them? What is the West of England AHSN Innovation Pipeline and how does it play a key role in the wider innovation ecosystem? How can academic researchers be supported and also support a vibrant innovation ecosystem? And what is the specific remit of the integrated care boards (ICBs) is to support research and innovation?
A number of key themes emerged from the discussions, including:
The importance of recognising that the innovation ecosystem is much wider than health and the NHS – it is about care and all the organisations and partners across the wider community that work to help people to look after themselves, including the voluntary sector and education providers.
People and organisations within the ecosystem need to work together to expedite great innovation and maximise benefits to patients and to the health and care system as a whole.
Putting resource behind the right needs is critical, and this requires better identification of need. To do this, we need to better recognise the diversity within our communities and to understand the needs of underrepresented communities. This will help us to address health and care inequalities and begin to close the health and care gap.
Those receiving our care should also be part of designing their services.
Health and care innovators need to "fall in love with the problem over the solution" – system pull versus technology push.
We need to create more open and inclusive processes and pathways for ideas and innovation. Collaboration, cultural change and leadership are key.
Thinking differently, doing differently: if we want to be different, then we need to think differently. Diversity of thinking, diversity of relationships, and really understanding who makes up our local population, and who we need to focus on.
Posted on April 3, 2023
---