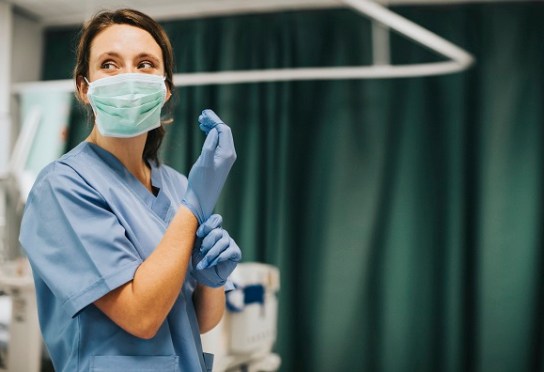 We're delighted to celebrate PreciSSIon (Preventing Surgical Site Infection across a region) achieving the project aim of reducing SSI rates in elective colorectal surgery by 50% by March 2021. It is also estimated that we have saved 103 patients from developing a SSI since the start of the project, with a cost saving of an estimated £509,574. This fantastic result was achieved despite the COVID response causing major disruption in hospitals.
Background to PreciSSIon
Surgical site infection (SSI) accounts for 14.5% of hospital acquired infections in the UK. It is a significant cause of patient morbidity including increased length of stay, readmission,  wound dehiscence, hernia, critical care admission, and death. SSI rates of up to 30% have been reported after colorectal surgery where wounds are frequently contaminated by bowel content.
Seven hospitals in the West of England had already worked together to improve care after emergency surgery in the Emergency Laparotomy Collaborative. The plan was to build on this collaborative approach through PreciSSIon.
---
Project aims
The project had 2 clear aims; to establish reliable SSI measurement after elective colorectal surgery and to implement a new evidence-based 4-point care bundle. The PreciSSIon bundle, is comprised of 2% chlorhexidine skin preparation, a second dose of antibiotics after 4 hours in surgery, the use of dual ring wound protectors, and antibacterial sutures.
The West of England AHSN supported the PreciSSIon project and the collaborative, made up of teams consisting of surgeons, anaesthetists, junior doctors, specialist nurses and theatre nurses from each of the 7 hospitals across the region.
Anne Pullyblank, Medical Director, West of England AHSN explains:
"We produced important resources and materials to aid implementation of the PreciSSIon bundle and data collection. These included QI (quality improvement) resources, an implementation toolkit, posters, and videos. We also ran 'learning and sharing' events for the collaborative which were an excellent opportunity to meet and share successes, challenges, and discuss data collection."
---
The results
The results showed an average compliance of PreciSSIon bundle elements rate of:
2% chlorhexidine skin preparation at 95%
A second dose of antibiotics after 4 hours in surgery at 73%
The use of dual ring wound protectors at 70%
Antibacterial sutures at 82%
Along with these impressive figures, all trusts in the collaborative, except one with a low baseline rate, demonstrated at least 27% improvement in SSI rate, the greatest being 75% improvement. 
Dr Lesley Jordan, Consultant Anaesthetist and Patient Safety Lead, Royal United Hospitals Bath NHS Foundation Trust explains:
"Combined regional average baseline figures showed SSI was 18% pre November 2019. Implementation of the bundle elements in all trusts between November 2019 and May 2020 resulted in an amazing 50% improvement in SSI rate, leading to a regional average of just 9% by January 2021. This relates to saving 103 patients from an SSI, a significant improvement in patient experience.

The collaborative element enabled staff and trusts to support each other during the difficulties of the COVID-19 pandemic and engagement was high, with theatre teams in particular being empowered to make a difference.

We had our challenges, including standardising measurement, procurement of antibacterial sutures and sustaining measurement during the pandemic, when staff were redeployed to other roles, but despite this we have demonstrated that a care bundle developed in a single hospital can be adopted and spread. Also that the original outcome of a 50% reduction in SSI after elective colorectal surgery can be replicated in other hospitals and deliver results within just 18 months.

A UK study demonstrated that the cost of a SSI after elective colorectal surgery is £4928 (range £4020-£7503) Overall we estimate that we have saved 103 patients from developing a SSI since the start of the project. Using the estimate of £4928 per SSI, this would extrapolate to a cost saving of £509 574.  This does not include additional savings from SSI reduction after emergency laparotomy."
---
Next steps
Anne Pullyblank, Medical Director, West of England AHSN explains:
"We are currently exploring other ways of measuring SSI such as e-PROMS and primary and secondary care data linkage to facilitate adoption and spread and are considering expanding the project to vascular surgery and caesarean section.

Our results have been shared with the Royal College of Surgeons and we are delighted that the results will also be presented at the Association of Surgeons of Great Britain and Ireland with the aim of sharing more widely.

This has been a fantastic project to be a part of, and the figures we have been able to achieve at such a challenging time for many in hospitals are absolutely incredible. I can't wait to see what develops from this!"
---
If you would like to find out more about PreciSSIon, please click here to view our PreciSSIon webpages. This includes the project structure, evidence, QI improvement resources and implementation resources.
You can also email weahsn.transformation@nhs.net
Posted on May 10, 2021
---