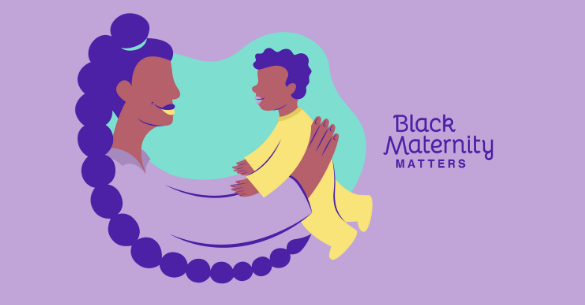 Evaluation of the pilot phase of Black Maternity Matters shows the project has successfully helped to increase the cultural competency of maternity staff, with the value of the education and training programme demonstrated through both participants' feedback as well as their resulting actions.
Black women* are four times more likely to die during pregnancy or in the postnatal period than White women. Stillbirth rates of Black and Black British babies are over twice those for White babies.
The reasons for the disparity, which present a major patient safety issue, are often described as a 'constellation of biases'. Unconscious bias, stereotyping and lack of diversity competency have the potential to result in health services that disadvantage women from non-White ethnic backgrounds.
Developed by the West of England AHSN in partnership with Black Mothers Matter, Representation Matters and BCohCo, the Black Maternity Matters pilot was designed to deliver meaningful, actionable improvements to reduce inequity of outcomes for Black women within maternity systems through a collaborative quality improvement (QI) approach.
A key component of the eight-month pilot was the delivery of cultural competency and diversity fluency education for midwives and maternity support workers from North Bristol NHS Trust and University Hospitals Bristol and Weston NHS Foundation Trust. The training aimed to examine unconscious biases and the role of the individual in perpetuating unsafe systems of care for Black women.
The Black Maternity Matters pilot was one of nine projects around the country to be awarded funding from the Health Foundation through its Q Supporting local learning funding programme.
Between May and December 2022, 14 midwives and maternity support workers from the two trusts took part in the pilot. They participated in six facilitated sessions with specialist trainers from BCohCo and Representation Matters. Three anti-racism training sessions were delivered face-to-face, alongside three online 'book club' sessions.
Participants were also supported to develop as quality improvement (QI) practitioners. Using the learning and insights they gained and with ongoing support from the wider collaborative, they received training and coaching to help them design and implement QI projects in their own hospitals, running small tests of change aimed at improving experiences and outcomes for Black women.
The evaluation findings
Through the use of anti-racist training, the Black Maternity Matters pilot has successfully improved the knowledge and skills associated with cultural competency amongst the midwives and maternity support workers taking part.
The evaluation shows that participants overestimated their cultural competency at the start of the programme, but by the end they had increased their understanding of how racism impacts health inequalities and were able to transfer this knowledge to their work context.
The style and focus of learning on anti-racism has the potential to cause discomfort but was identified as part of a necessary journey. Creating a focus on the training as anti-racism work has the potential to prioritise the severity of the structural issues of racism and its consequences in healthcare, and therefore future iterations of the training should be clearly identified as anti-racism work. This training helped participants improve key understanding, knowledge, and awareness of the impacts of racism, and has the potential to act as a catalyst for change of what can be done differently in healthcare spaces.
The partnership between the West of England AHSN, voluntary, community and social enterprise sector (VCSE) and health community was an integral aspect to the success of the project. The AHSN acted as a facilitator between health systems and community partners, each of which have important expertise and experience to tackle the health inequalities faced by Black women. Future evaluation will encompass a focus on indicators and outcomes that address the health inequalities faced by Black women and that can be evidenced by local systems.
Katie Donovan-Adekanmbi of BCohCo and Aisha Thomas of Representation Matters designed and led the training and education sessions. They commented: "We are really looking forward to taking this programme and its contents to the next level. As facilitators we have grown, and our knowledge of the clinical, procedural and systemic ways racism is showing up in maternity services has deepened.
"The first cohort experienced it as ground-breaking, and we could not be more delighted to be influencing real behaviour change. Building the change is what we are committed to do!"
Sonah Paton, Founder and Director of Black Mothers Matter, said: "This project acknowledges and addresses that this is a systemic issue and importantly takes the burden away from those experiencing harm. By supporting health care professionals who are best positioned to contribute change, we will see an improvement in the grim statistics and experiences for our community. It's a refreshing approach to improving patient safety and an important signal to Black people in the perinatal period that they do, indeed matter."
Rosi Shepherd, Chief Nursing Officer for NHS Bristol, North Somerset & South Gloucestershire ICB, said: "Black Maternity Matters is integral to supporting anti-racism training within the NHS. We are very excited to be at the forefront of this innovative programme and look forward to our second cohort of maternity staff being involved."
Noshin Menzies, Senior Project Manager at the West of England AHSN, added: "We're really pleased with the evaluation findings of this initial pilot of Black Maternity Matters. We're trying to do things differently to ensure that the lived experiences of Black parents are always at the heart of our collaborative approach. The evaluation shows we're on the right tracks in helping to increase the cultural competency of maternity staff and building an understanding of how racism impacts health inequalities that could really help us redress the balance for Black mothers and their babies.
"There's a huge amount of learning in this evaluation, particularly in how we support participants to put their learning into practice through change projects back in their trusts, and we're excited about moving into the next phase of the project to bring Black Maternity Matters to more maternity and neonatal teams across the West of England."
Complementing the pilot evaluation, NIHR ARC West researchers at the University of Bristol were commissioned to conduct a rapid review of other recent studies which have similarly evaluated cultural competency training. The evidence synthesis found that there have been limited studies conducted in this area, half of which were carried out in the USA. However, the results indicate improved knowledge of cultural awareness in staff who received the interventions, most of whom were midwives.
Findings from the synthesis emphasise similarities with evaluation insight from the Black Maternity Matters pilot, such as the effective use of QI approaches to influence healthcare providers and staff to address racial health inequalities.  It also emphasised that it can be hard to know if training alone will sustain or contribute to reduced perinatal racial and ethnic disparities.
Download the evidence synthesis:
Next steps
Informed by the evaluation of the pilot phase, the Black Maternity Matters collaborative will deliver two further programmes of the Black Maternity Matters training in Bath and North East Somerset, Swindon and Wiltshire, and in Gloucestershire, as well as another programme in Bristol, North Somerset and South Gloucestershire.
Building on the learning from the pilot project, up to 60 participants (maternity and neonatal staff, as well as perinatal mental health teams and health visitors) will participate in a six-month programme of anti-racist education and quality improvement starting in May 2023.
In addition, we are providing a further six months of support to the original pilot cohort in Bristol.
* The words women and mothers have been used throughout our website content as this is the way that the majority of those who are pregnant and having a baby will identify. It also includes people whose gender identity does not correspond with their birth sex or who may have a non-binary identity.
Posted on April 3, 2023
---