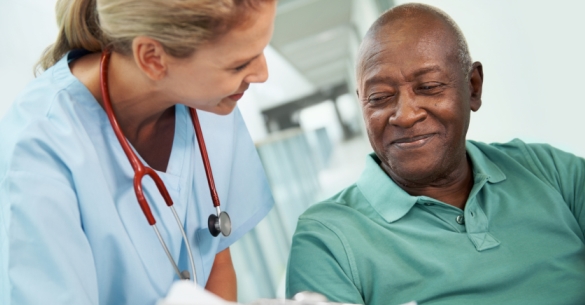 A new £275,000 project will explore the use of non-GP health professionals in primary care to understand if they relieve the pressure on GPs and improve patient care. The project will see the National Institute for Health Research Applied Research Collaboration West (NIHR ARC West) team up with the West of England AHSN.
The use of non-GP health professionals in primary care has been growing over the last few years under the Additional Roles Reimbursement Scheme (ARRS). While the scheme predates the COVID pandemic, it is seen as one solution for 'reset and recovery', especially helping to address the workforce crisis in primary care and ever-greater demand from patients.
ARRS introduces non-GP health professionals into primary care to expand and enhance the workforce, reduce pressure on GPs, create a more multidisciplinary approach to patient care and improve outcomes for patients. NHS England expects 26,000 of these staff to be in primary care by 2023/24.
In this project, the team are focusing on the ARRS Advanced Practitioner roles. These roles are the most likely to reduce pressure in primary care, while bringing in expert skills. Advanced Practitioner roles include clinical pharmacists, physiotherapists, occupational therapists, dieticians, podiatrists and paramedics.
The work has been funded as part of the NHS Insights Prioritisation Programme, established by the NHS Accelerated Access Collaborative and the NIHR. The fund was created in response to the COVID-19 pandemic, to help identify and roll out new ways of working ushered in by the pandemic which could improve healthcare in the future. The project will inform 'reset and recovery' decision-making in the NHS.
Researchers will use interviews and anonymous patient records from GP practices to find out how effective Advanced Practitioner roles are in primary care. This will help shed light on the system-wide challenges to introducing and sustaining these roles.
Dr Theresa Redaniel, Applied Data Science Team Lead at ARC West, said:
"This project will help answer some important questions about the Advanced Practitioner roles introduced as part of ARSS. We want to understand how effective they are in reducing the pressure on GPs, and whether they improve service delivery and patient outcomes. We'll also look at how they affect the system as a whole, by exploring the impact of removing healthcare professionals from elsewhere in the NHS to work in primary care.
"At the moment, there's limited evidence on this workforce innovation and our work will help to fill this gap."
Natasha Swinscoe, Chief Excecutive of the West of England AHSN, said:
"As with so much of our work, this project has its origins in the priorities of our three local health systems, and I'm grateful for their support in identifying primary care workforce as the shared priority focus for this project. The West of England AHSN and NIHR ARC West have a strong track record in collaborating successfully with our local NHS and university partners and this project is a further opportunity to build on these strengths. We expect this project will generate rapid insights and evidence to inform operational and strategic decisions by our newly established Integrated Care Boards."
Professor John Macleod, Director of NIHR ARC West, said:
"I am looking forward to working with our colleagues at the West of England AHSN to answer these important questions about the use of non-GPs in primary care, especially as a GP myself. We are delighted to also have the RECON project funded through the Beneficial Changes Network, the precursor to the National Insights Prioritisation Programme. RECON looks at the impact of remote consultations on NHS clinicians."
Posted on January 10, 2022
---