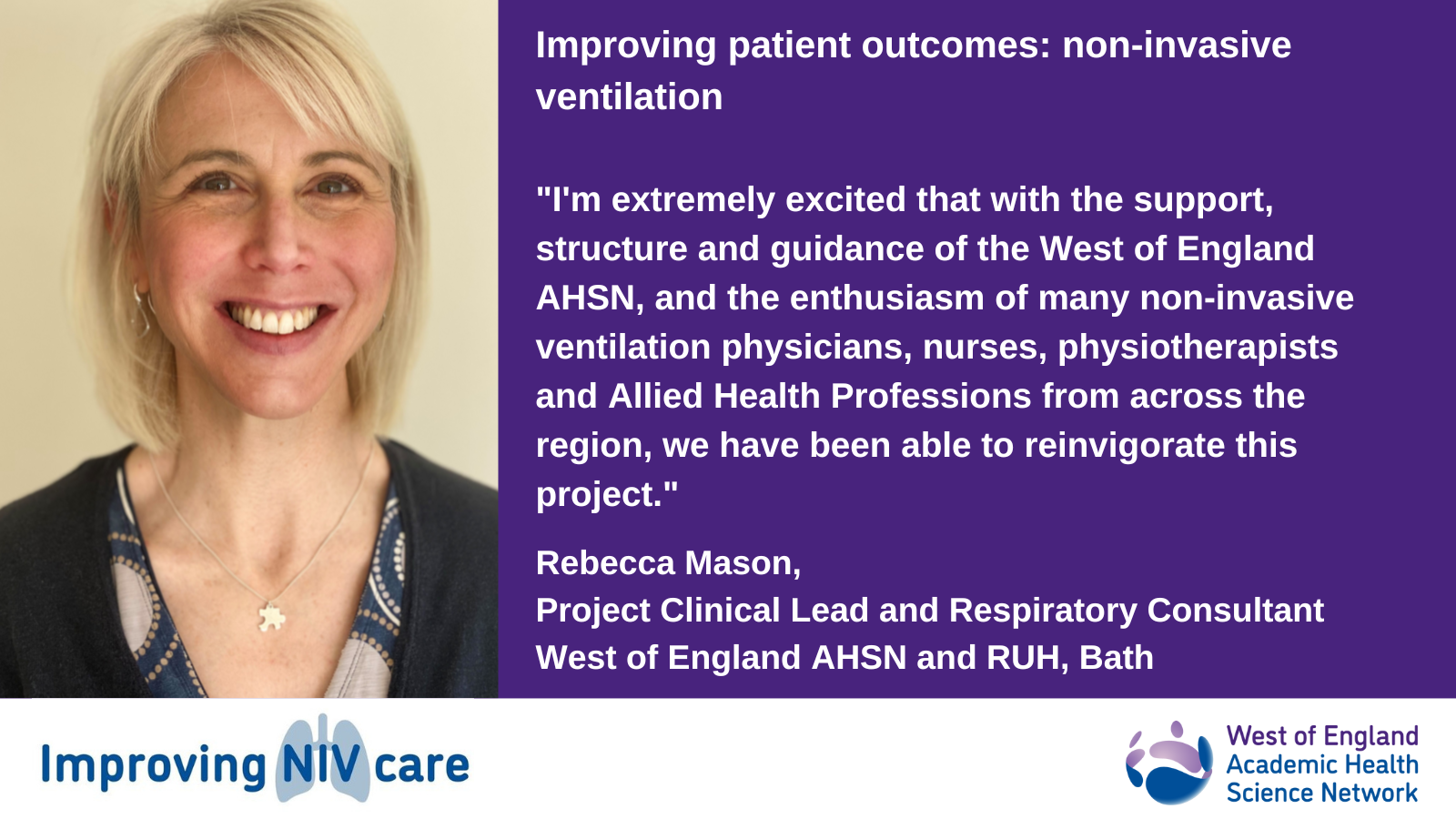 In this blog, project Clinical Lead and Respiratory Consultant at the Royal United Hospital Bath, Dr Rebecca Mason, looks forward to the launch of a new West of England collaborative to reduce mortality following non-invasive ventilation (NIV). A design and launch event is being held on 9 December. Here Rebecca explains more…
Acute NIV is an evidence based, clinically effective and lifesaving treatment used to manage patients presenting with specific conditions in type 2 (hypercapnic) respiratory failure.  In 2000 a research study showed that effective NIV use reduced mortality in type 2 respiratory failure from 20 to 10% but by 2013 the British Thoracic Society (BTS) NIV audit had recorded that mortality rates had risen to 34% and change was needed.
These results prompted a 2017 National Confidential Enquiry into Patient Outcome and Death (NCEPOD) and ultimately the report entitled 'Inspiring change'. This report focussed on patient selection and the standard of NIV care delivered in hospital trusts across the country and the results made for stark reading. In 2019, a BTS audit on adult NIV care reported the inpatient mortality rate was now 26%. This was an improvement on previous audits however mortality rates remained higher than in other countries.
The 'Inspiring change' report galvanized a group of South West Respiratory doctors, nurses and physiotherapists with a special interest in NIV to join together in October 2018 to establish a Quality Improvement (QI) network with the aim to drive change within their own trusts and across the region. Although enthusiastic and full of ideas, without the structure and support of a full QI team, and then with the arrival of the Covid pandemic, the group's work halted.
However, I am extremely excited that with the fabulous support, structure and guidance of the West of England AHSN, and the enthusiasm of many NIV physicians, nurses, physiotherapists and AHPs across the South West, we have been able to reinvigorate this project.
This new pan-regional QI project will seek to improve NIV outcomes for patients through the implementation of a regional standardised care bundle, based on the BTS quality standards. In addition, we aim to improve staff knowledge, and competence in use of NIV, along with patient experience through enhanced communication and development of teaching materials.
I am really looking forward to working alongside my respiratory colleagues across the region and with the expert support of the AHSN to deliver this important and exciting QI project.  With the hosting of our design and launch event on 9 December we'll be stepping up activity, and as a first step gathering baseline data and agreeing our implementation plan.

Posted on December 1, 2022 by Rebecca Mason, Respiratory Consultant, RUH Bath.
---