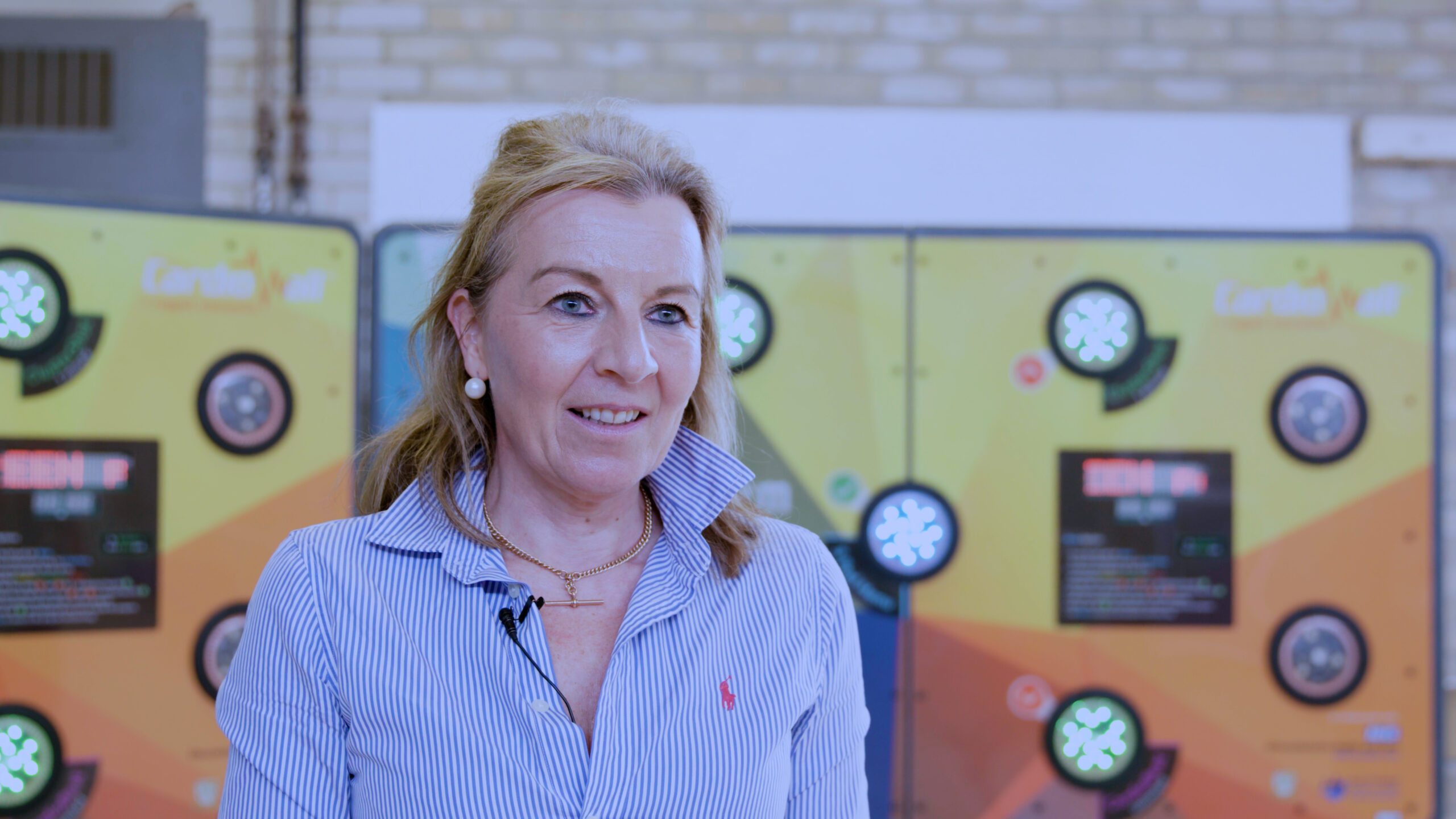 Earlier this year, we published the evaluation report on the SmartGym Gloucestershire project at Newent Community School, as part of our Future Challenges programme, enabling innovators and local partners to pilot innovations and validate them in real-world settings.
SmartGym combines physical and cognitive activities, gamification of physical activities (using game elements to solve problems and increase engagement) and a tailored support tool to embed and reinforce users' personal development. The cognitive activity elements were created by the Anna Freud National Centre and the gamified physical activities use Rugged Interactive's CardioWall technology.
In this blog, Victoria Barnes, Newent's former Deputy Additional Learning Needs Coordinator, reflects on how the SmartGym project has supported their students, both in their mental health and wellbeing and in their academic achievement.
An exciting new adventure!
Back in January 2020, just before the start of the new term and before the outbreak of Covid-19, I remember Martyn John (our Assistant Principal) being extremely excited about a new project that he was involved with. He came to me to talk about "an exciting new adventure" that was going to take place at Newent School. What he was talking about made no sense at all to me, as I had never experienced or envisaged anything like it!
It began with me and Martyn going head-to-head on the SmartyGym CardioWall, along with the Headmaster and the Deputy Principal. We soon had other members of staff involved and enthusiastic, and a friendly competition built up amongst us. There was even a scoreboard for staff to put their scores on! This was the start of the CardioWall installation at Newent. The enthused members of staff were soon able to pass their enthusiasm onto students, which was what it was soon to be all about.
How we've used the CardioWall
We follow a structured timetable for SmartGym sessions, which facilitates wellness and consistency, aiding an improvement in mental health. It has been a fantastic resource to help students with their academic achievements, their relationships and their resilience and behaviour.
I have also used the CardioWall in other situations to help those students who have significant and even mild mental and emotional problems. Pupils have reacted positively – it gives them time to express their feelings, whether they are positive or negative. I've found the CardioWall has helped students who have been struggling with poor behaviour, as well as with those who deserve praise or as a treat.
Increasing resilience
For students who are lacking in confidence, using the CardioWall has led to increased resilience and positivity. The pupils have been able to use the special technology to increase focus and perseverance so aiding their wellbeing.
I have seen pupils who after 30 minutes using the CardioWall realise that they can persevere and conquer obstacles, where previously they have been anxious and lacking in self-esteem. They realise that just by pushing themselves that little bit further, they are able to achieve and succeed.
Pupils also become more aware of what is going on around them, spatially and emotionally. This, of course, all transfers to the classroom with activities and learning.
Impact in the classroom
It was clear that most of the students involved in SmartGym showed increased concentration and focus during lessons. The students were able to look at their own behaviour more positively and control any unwanted behaviour. They also develop skills by following the instructions of the CardioWall that helps them to gain confidence in completing tasks, increasing their enthusiasm to achieve.
Throughout the time that Newent has had the CardioWall, Martyn John has asked the teachers to provide data on how the students have improved both with behaviour and achievement. In the staffroom, there was a board that teachers provided their data on and it was a delight to continually walk into the staffroom to see all the students involved in the SmartGym project having improved in all areas of behaviour and learning, attitudes and confidence, as well as listening and engagement in lessons.
Staff have been able to review the academic performance of the students, as well as their mental health in terms of resilience and overall behavioural coping mechanisms. Pupils were also 100% engaged in tracking their own progress throughout the programme.
Building positive relationships
With SmartGym, students are able to compete against each other in a structured way, and this has also helped to develop social connections. I have seen very different students form friendships whilst using the CardioWall that perhaps would not have done so in the classroom.
They encourage each other to improve their performance, whilst concentrating on their own performances. I noticed one particular student start looking after other girls in her class and taking notice when other students were feeling down. She became more empathetic and understanding towards others in the class. This boosted her self-esteem, enabling her to look more positively towards her work and other challenges that she faced. The impact that it has had on this student has also been mirrored with other students who have had the chance to take part in the programme.
The SmartGym project has also helped build relationships between staff and pupils. Pupils develop trust with the staff taking them to use the wall, supporting behaviour and communication in school.
For me, all these benefits demonstrate how this fantastic use of technology through the SmartGym project can promote student mental health and wellbeing at Newent Community School and in other schools.
Watch our short film featuring Victoria – along with other teachers, students and project partners – to find out more about SmartGym Gloucestershire and the impact it is having at Newent Community School.
Find out more about the SmartGym project and the results of the trial here.

Posted on October 4, 2022 by Victoria Barnes, Newent Community School's former Deputy Additional Learning Needs Coordinator
---