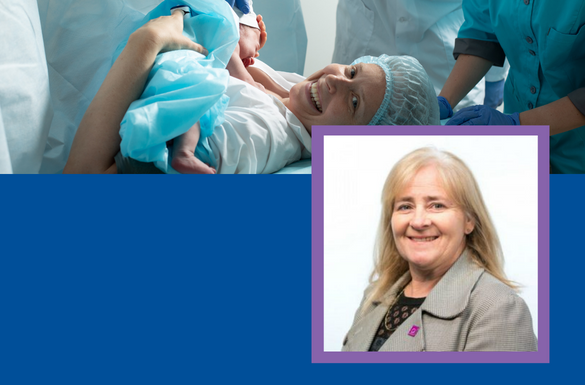 In this blog our Clinical Lead, Lesley Jordan, looks forward to the launch of a new collaborative to reduce surgical site infection (SSI) following caesarean birth by implementing an adapted PreCiSSIon bundle in all acute maternity units in the West of England region. The launch will take place during International Infection Prevention Week 2022, 17 – 21 October.
PreciSSIon (Preventing Surgical Site Infection across a region) was an award-winning collaboration between acute trusts in the West of England 2019-2021, supported by the West of England AHSN, which halved SSI rates after elective colorectal surgery. 
I am really excited to share our next steps in preventing wound infections across the West of England, spreading our successful 'PreciSSIon' project to mothers having caesarean births.
PreciSSIon resulted in over a 100 patients being prevented from a wound infection and was widely acclaimed, winning 2 national patient safety awards; read more about the success of the project in our PreciSSIon case study. Wound infections after surgery can have a major impact on patient's recovery, and for mothers who have had a caesarean birth this can be really significant, as they are trying to look after their new babies. Many of these mothers will also require a caesarean birth in future pregnancies and an infection can make the future surgery more difficult, resulting in more complications.
Caesarean birth is also one of the most common procedures performed, and wound infection has been estimated to be about 15%. However, reporting the infection rate is not nationally mandated, so it is not reliably recorded. We therefore want to measure wound infection rates in mothers having a caesarean birth in all hospitals in the West of England, and to reduce it by 30%. We estimate that this could prevent circa 450 mothers in our region from having a wound infection.
This is a really exciting project involving hospitals in Bristol, Bath, Swindon, Salisbury and Gloucester and we will need everyone to get involved to achieve our aim. We've been working with the hospital project leads and have agreed a specific PreCiSSIon bundle as well as producing a logo and brand for the project.
The leads in each hospital are currently pulling together multidisciplinary teams to support the work; so we are looking for hospital and community midwifes, maternity care assistants, obstetricians, anaesthetists, operating theatre, infection control and quality improvement teams to get involved. Information Technology teams are really important too, as we are implementing an electronic system to collect the information, which is being funded by the AHSN. This is a fabulous opportunity for us to use this information for further improvement.
We will also be co-producing the processes with mothers, so would like to hear from anyone willing to help us. We'll be discussing the project with Maternity Voices Partnerships and we are very lucky to have other excellent existing networks, such as the maternity and neonatal safety improvement programme, so will be joining forces to involve everyone.
The project is being launched on 19 October at a face to face event in Bristol, where we will bring the multidisciplinary teams together and start sharing and collaborating. Get in touch with your local PreCiSSIon lead, get involved and book in for the event. The launch is very timely as it falls within International Infection Prevention Week 2022.
I am really looking forward to jointly working with many new people and I will be sharing further information as the project develops, so keep an eye on the website and look out for more information in the West of England AHSN newsletter.
The launch of PreCiSSIon will be held on 19 October 2022. If you are interested in hearing more about the event, get in touch at weahsn.transformation@nhs.net.

Posted on September 22, 2022 by Lesley Jordan, Consultant Anaesthetist/Trust Patient Safety Lead, RUH Bath and Clinical Lead, West of England AHSN
---