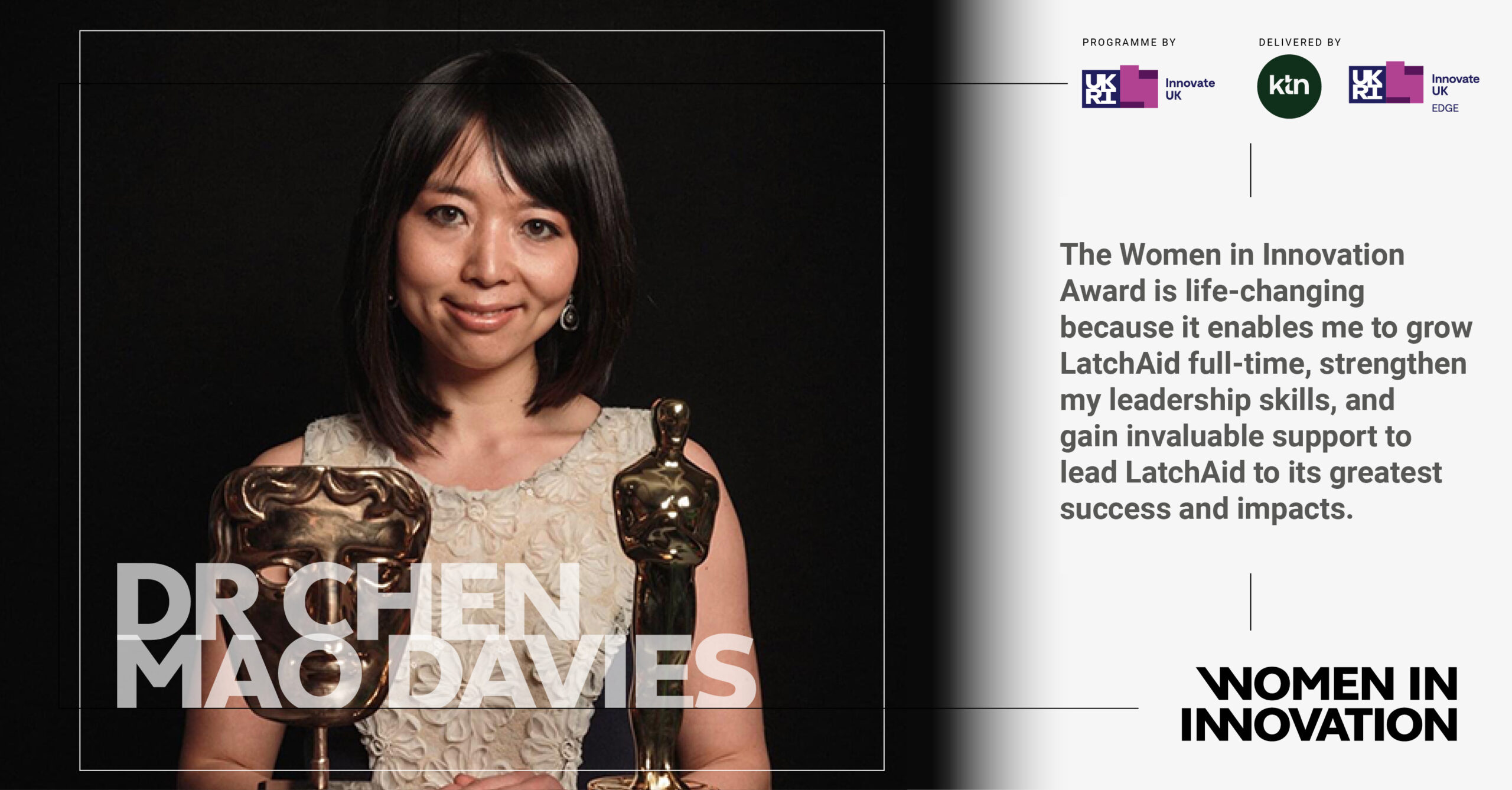 In the sixth of our Meet the Innovator series, we meet Dr Chen Mao Davies, who is the Founder and CEO of LatchAid – a breastfeeding support app that utilises innovative technology to provide mums with help and advice. Here, she shares her very personal journey from BAFTA-winning visual effects specialist to health care innovator, and how the AHSN has supported her growth, from business acorn to becoming one of the UK's 'Top 40 Female Innovators' of 2021.
The innovation
The UK has the worst breastfeeding rate in the world. Sadly, 90% mothers give up before they want to, due to lack of support, pain/health issues, and feelings of isolation and depression.  I believe that all mothers deserve the support and empowerment to give their child the best start of life, which is why I founded LatchAid – the world's first and only app that utilises cutting-edge 3D interactive technology to help women learn breastfeeding skills intuitively.  It also has an AI-powered virtual supporter to provide users with personalised expertise and companionship 24/7, and offers virtual breastfeeding support groups, to connect mothers to a close-knit peer-to-peer support network.
That 'lightbulb' moment
Before founding LatchAid, I had a dream career working in an Oscar and BAFTA-winning visual effects team behind blockbuster films including Gravity and Blade Runner 2049. However, my life changed dramatically after giving birth and experiencing tremendous breastfeeding challenges. Struggling to achieve a good latch, I suffered from breast infections, baby's weight loss, and postpartum depression.
As a computer graphics & animation specialist, it occurred to me that I could use my expertise in CGI in movies to create an app that would help women visually learn breastfeeding skills, using 3D avatars. An app which would demonstrate breastfeeding skills such as how the baby should take the mother's areola into his / her mouth, achieving a 'deep latch' that prevents damage to the breast.
Innovator journey highlights
Since 2018, I have led LatchAid from strength to strength, co-developing the LatchAid solution with top infant feeding and maternal health experts. We have won over £250,000 grant funding from Innovate UK, EU, UnLtd, and the NHS to date, and we are currently partnering with 12 NHS trusts across the UK, as well as Virgin Care, to pilot the technology. In 2021, I won the prestigious Innovate UK's Women in Innovation Award, recognised as one of the 'Top 40 Female Innovators in the UK'. I have also been recognised as a '42 under 42' rising star by the South West Business Insider magazine. The LatchAid Beta app has attracted active users from 20 countries across six continents, commending it as a revolutionary and much-needed innovation – and we will be launching at Apple AppStore this July / August.
Working with the West of England AHSN
The journey has been great and we have received so much support along the way from West of England AHSN!
I took my daughter Anya to the HIP training [Health Innovation Programme] when she was in a pram, only 4-5 months old, and I learned a huge amount in this bootcamp training. I was able to communicate my business ideas with fellow innovators, present my business to a panel of experts (with Anya in my sling), and start building relationships with a network of experts and fellow entrepreneurs. The team was very accommodating for me and Anya. They even made a little HIPster baby grow for Anya who was photographed in our graduation picture too!
Since then, I have continued to receive ongoing support from the AHSN with regards to funding opportunities, application reviews and networking – including the EU regional development funding, Innovate UK grant application review , Orcha app review funding, as well as support in designing the NHS app pilot evaluation frame and connecting me with NHS maternity services and commissioners.
Toughest obstacles to date
Raising funding and investment for product R&D was challenging, particularly as an early stage start-up, without a solid track record and user tractions. Managing subcontractors and software development teams has also been a challenge – many of them are world-class and wonderful to work with, but some have brought lots of chaos and had little professionalism and commitment. Juggling all of this while trying to avoid burn-out has been tough – I was building LatchAid, while juggling motherhood and another job, without an equal co-founder.
Hopes for the future
At LatchAid, we believe that all mothers deserve the support and empowerment to give their child the best start of life! Our vision is to become the global market leader and go-to breastfeeding and early parenthood support app by 2023.
A typical day
Managing projects, budgets and teams and measuring impacts; raising future capital; collaborating with healthcare providers to pilot the product amongst new mothers; and managing school runs and being a mother to my six year old son and three year old daughter – as if I am not already exhausted running a tech start-up!
Best part of the job
Seeing how much impact LatchAid has made – providing invaluable support to mothers and mothers-to-be, especially during the pandemic!
In February we launched our public Beta app, which resulted in extremely positive feedback from both mothers and healthcare professionals alike. But the biggest success was not one that could be measured through data, but through observation: it was the level of engagement users had with the app, as a result of the community that was created. Over the course of a month the LatchAid team, infant feeding specialists, mums and mums-to-be shared stories, sleepless nights, tips, milestones and pictures. We celebrated Mother's Day and shared details of how we were celebrating. We participated in quiz games. And some of us even went ahead and had a new baby!
Building a community is not to be taken for granted, especially during times when people so rarely see each other face-to-face. During the country's third lockdown, many routine midwife appointments were no longer in person and peer-to-peer breastfeeding groups had been interrupted. During what can already be an isolating time, finding others who you can share experiences with is invaluable – and we feel honoured to have been a part of that.
Advice for budding innovators and entrepreneurs
Entrepreneurship is a marathon not a sprint – it's a long and difficult journey. We can use the analogy of bamboo, which develops complex routes underground for seven years, before emerging from the soil as one of the world's fastest growing plants. I don't think anyone is born to be an entrepreneur, a risk taker or to be brave. I was quiet growing up, but entrepreneurship forced me out of my shell.
Resilience – I built this app and platform while juggling motherhood and another job. Entrepreneurship is all about your resilience when something happens and not being afraid to fail, because trying your best is already a great success.
Build a network and support around you – all the amazing people who joined my journey along the way as team members, advisors, supporters, and partners have nurtured and shaped me as an entrepreneur and a person. Being passionate authentic and humble is the key for me personally to attract more and more people to join me in fulfilling my mission and vision for LatchAid!
If, like Chen, you are a healthcare innovator looking for business development support and tools, do get in touch with us at the West of England AHSN. We can help. You can visit our Innovation Exchange for expert advice, information about funding opportunities and to make contact with our team to access support.

Posted on July 9, 2021 by Chen Davies, Founder and CEO of LatchAid
---