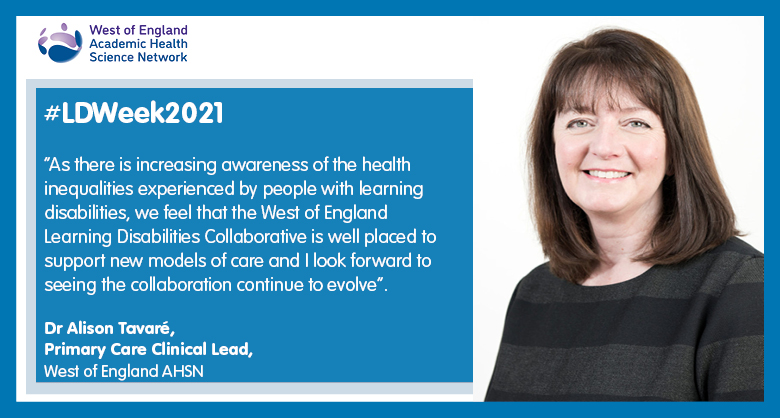 In this blog to mark Learning Disabilities Week 2021, Dr Alison Tavaré, who is a GP, one of our Primary Care Clinical Leads and South West Clinical Lead for the NHS@home programme, discusses how the idea for the West of England Learning Disabilities Collaborative (WELDC) took shape…
As a GP and a clinical lead at the West of England AHSN I have always had a special interest in the use of NEWS2 (National Early Warning Score) to support clinicians in the early identification and management of the unwell patient. However, the more I used NEWS2 the more I wondered if patients could record observations such as their blood pressure or pulse rate and share these measurements with clinicians to help us decide whether they needed to be seen, and if so by who, and with what urgency. Read more about NEWS2.
Making connections
The idea evolved and I shared it with my brother Ian, and his wife Kate, who are the parents of Toby who has a learning disability and therefore finds it a challenge to tell others when something is wrong. A few months later Toby developed a cough and became very quiet and subdued; while this may not be unusual for many people, for Toby this can be a sign that he is unwell. Kate took a full set of observations, calculated a NEWS2 score of 6 and took Toby to the local emergency department where he was promptly treated for sepsis.
LeDeR (Learning Disability Mortality Review) has identified that not only are people with a learning disability more likely to die of sepsis but on average they die more than 20 years younger than the general population. While this may partly be due to underlying health conditions it is also known that being unable to say you are unwell is another contributing factor.
Sharing Toby's story
With permission I started to share Toby's story when I spoke about NEWS2 and soon found there were many others who shared my concern that communication could be difficult if someone who has a learning disability becomes unwell. Anne Pullyblank, the medical director of the West of England AHSN, and I therefore decided to find out if there could be any interest in developing a group where practical ideas and strategies could be shared. We sent a speculative email which immediately generated lots of positive responses, and in 2019 the West of England Learning Disability Collaborative (WELDC) was established. There are now over 300 members from diverse backgrounds and include experts by experience, families, carers and clinicians.
Continuing the WELDC journey
The WELDC has continued to flourish and in the past year alone have delivered webinars on COVID-19, annual health checks, digital solutions and advance care planning. Alongside this there has been lots of sharing of knowledge and expertise and we have even had a question asked in the House of Lords. Most recently we have worked with the NHSE Learning Disability and Autism team to co-create training on 'soft signs' and communication which has been delivered to 8000 families and carers.
As there is increasing awareness of the health inequalities experienced by people with learning disabilities, we feel that the WELDC is well placed to support new models of care and look forward to seeing the collaboration continue to evolve and contribute to better outcomes for people like Toby.

Posted on June 14, 2021 by Dr Alison Tavaré, Primary Care Clinical Lead, West of England AHSN
---