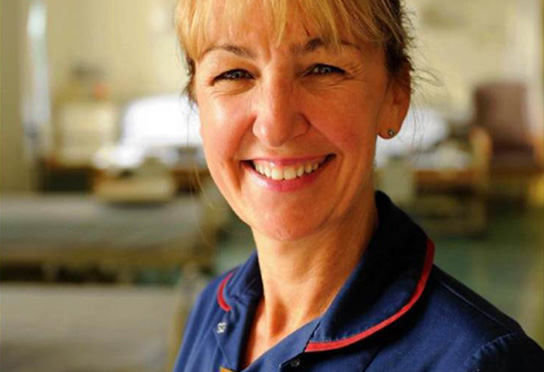 In celebration of International Nurses Day 2021, we have collated a blog series showcasing the amazing nurses that we are privileged to have as part of our team. Here, Kay Haughton, Director of Transformation, reflects on her career as a nurse…
June 81 was the date I started my nurse training at Charing Cross Hospital in London. Ask any nurse when they started their training and they will immediately know what 'set' they were in, and mine was June 81. London was buzzing at the time as it was the month before Charles and Diana's wedding and I remember clearly watching it on the TV in the nurse's home. To this day I wonder why I didn't go to St Paul's, I can only think I was not confident going out and about in 'town'! One of my overwhelming memories in my induction was seeing a film called Charing Cross in the 1800s. The room was very hot and seeing leeches sucking patient's wounds tipped me over the edge and I fainted. That didn't bode well for the future, however, it was the only time I have ever fainted. Interestingly too, leeches and maggots are now used as standard therapy again for ulcers and some wounds.
Before we were allowed near any patients we had to spend six weeks learning a few 'basics' such as how to make a bed and take a temperature and believe me neither were as easy as they looked. However, once I got the hang of things and became more confident, I loved my training. It was fantastic to be paid whilst I trained and work with a fun enthusiastic group of people. Some of the people I met during this time had a great influence on me, such as my first ward sister after I qualified, Barbara Doyle, sister on 6 west, I wondered if I would ever be as knowledgeable as her.
I stayed at Charing Cross for a year after qualifying, as a staff nurse on a surgical ward and following my marriage, I moved to Germany. This is when it became clear to me that being a nurse meant you could get a job anywhere and what a flexible role it was. Over the next few years I worked in Hong Kong, Cyprus, the UK and Australia and had a variety of jobs such as, a nurse in a medical reception station (MRS), a minor injury unit for Army personnel and their families, a practice nurse in primary care, a school nurse, a maternity nurse (I stayed with people for a week after they went home with their new baby- that was in Hong Kong), I even worked for a dentist for a while.
A few years down the line and with my children being a bit older, I went to work in the day surgery unit in the old GWH, and it was here I fell in love with theatre nursing. I went on to complete anaesthetic and recovery nursing ENB182. During this course I was on placement in the children's hospital and remember meeting a young Miss Pullyblank who I now work with as the Medical Director of the West of England AHSN! I continued to work part time in theatre for a number of years. My first sister's post was in the old Frenchay Hospital in the Plastic and Burns theatre and I was very lucky to job share, which meant I worked term time only. I went on to be a sister in the emergency theatre in the RUH and from there to be the Day Surgery and Pre-admission Matron. During my last year at the RUH I started an MSC in Leadership and Management in Health and Social care.
It was at this time I was looking for a new challenge and saw an advertisement for a Matron in my local community Hospital. So armed with my transferable skills I went along for the biggest interview I have ever had and was delighted when I heard I had the job. The role of Matron in Stroud and the Vale was a huge learning curve for me and introduced me to a health and care system I was only vaguely aware of. I became very interested in patient safety and quality of care and this led me to apply for a role a few years later, in at the newly formed Gloucestershire CCG as a Senior Quality Manager. After a few years in this role I went on to be Deputy Director of Nursing in the CCG and I finally completed my MSc 5 years. A highlight during this time was winning a patient safety award with Dr Hein Le Roux for 'Recognition of Sepsis across a region' and presenting it at the Manchester Safety Conference in 2016. I was also invited to Clarence House to meet Prince Charles for lunch along with other winners on the day.
We are now almost up to date- in January 2018 I applied for the role of Director of Transformation at the West of England AHSN. After a career  in which I had worked in the acute sector, community and commissioning, I felt confident that I had the experience to enable me to perform in this role. Over the past few years I had managed to balance my career and my family thanks to a job which enabled me to be flexible with my time, study for a masters and to progress into different roles.
Back in June 1981 I had no idea where I would end up and here I am 40 years later reflecting on a career which has seen me work across a number of health and care settings, in many countries with a variety of people and some fantastic and supportive role models. I've learnt a lot, primarily there is more than one way to do things and that a career in nursing has been one of the best decisions I have ever made.
Kay Haughton is Director of Transformation at West of England AHSN

Posted on May 11, 2021
---