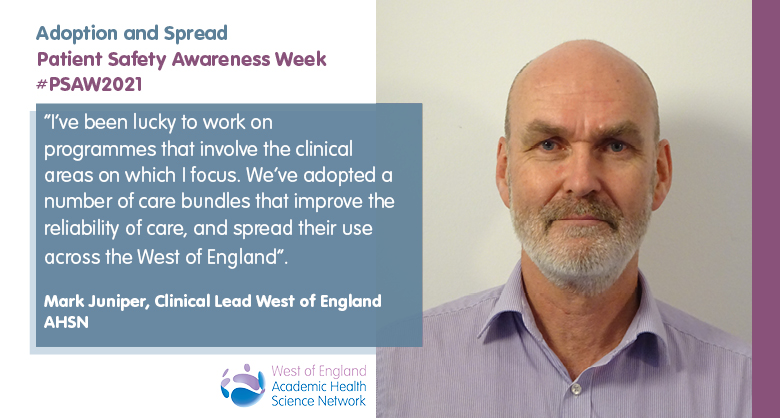 Mark Juniper is a consultant in respiratory and intensive care medicine at the Great Western Hospital in Swindon. He also works as a clinical lead at the West of England AHSN. Over the last year, when clinical commitments have allowed, he has been working on our adoption and spread safety improvement programme. This is part of a national programme led by NHS England and Improvement using a collaborative approach between acute hospitals helping to deliver improved care for patients with tracheostomies and respiratory problems.
In this blog, Mark talks through this expanding programme as we mark Patient Safety Awareness Week 2021.
How can we deliver reliable, high quality care?
Working in a complex environment is challenging and can sometimes feel overwhelming. When there are so many things to remember, it's easy to overlook one small thing. How many of us have forgotten where we put the car keys when we're in a hurry and taken longer to arrive at our destination as a result? Even at its simplest, the reliable delivery of healthcare is complicated. The COVID-19 pandemic has made the healthcare environment even more challenging. As individuals, our practice can vary each day, and there is often variation in practice between individuals and organisations. This can compromise patient safety. How can we improve this?
Improved safety can be achieved by improving the reliable delivery of care.  Many of us are now familiar with the use of checklists used for example to ensure that the correct patient receives the correct treatment. A care bundle is a group of evidence-based interventions known to improve a specific outcome. This effectively creates a 'checklist' that gives structure to how care is provided. This can improve the reliability of care, resulting in improved outcomes.
Structuring care in this way allows us to measure how consistently each element of a bundle is delivered. Measuring performance can also provide a focus on which areas require improvement. Working collaboratively with teams from other organisations helps to bring fresh ideas which can help to solve problems, often in simple but effective ways.
West of England AHSN Adoption and Spread Safety Improvement Programme
I've been lucky to work on programmes that involve the clinical areas on which I focus. We have adopted a number of care bundles which I've outlined below that improve the reliability of care and have spread their use across the West of England. This work is ongoing and additional programmes are being introduced shortly.
Tracheostomy care
The surge in intensive care admissions due to COVID-19 has been well publicised. The increased number of patients needing prolonged ventilation in ITU resulted in a greater number of tracheostomies to aid weaning from ventilation. In a system already under stress it was important to ensure that tracheostomy care was as safe as possible. A care bundle including the use of bed head signs and standardised bedside equipment can reduce harmful events due to tracheostomy emergencies. Use of a daily checklist has even been shown to help reduce length of stay. Resources to deliver improved tracheostomy care are available from The National Tracheostomy Safety Project. Our tracheostomy project ensured that these bundle elements were in use in all hospitals in the West of England during the pandemic.
COPD readmissions
COPD is a frequent cause of hospital admission with a high incidence of readmissions within 30 days of discharge. A care bundle developed by the British Thoracic Society in 2016 was designed to reduce readmissions but had not been reliably implemented. A collaborative project ensured that all hospitals began measuring their performance, and sharing ideas on how to improve use of the bundle. This project will continue until April 2022.
Asthma care
Despite effective treatments for asthma, some patients still experience emergency admissions and some still die from this disease. From April 2021, the British Thoracic Society asthma discharge bundle will be introduced across the West of England region. This work will build on the learning from the COPD collaborative and aims to standardise the care received by patients who come to hospitals with acute asthma exacerbations. This includes more reliable arrangements for follow up in both primary and secondary care. This should also reduce emergency admissions with asthma and improve safe care.
Bringing people together is at the heart of what the AHSN does and by sharing learning we can improve patient safety, I encourage anyone to get involved in our adoption and spread safety improvement programme. There's nothing better than working with experts and enthusiasts to deliver improvements in the care for our patients!

Posted on March 11, 2021 by Mark Juniper, Consultant in respiratory and intensive care medicine, Great Western Hospital and Clinical Lead at the West of England AHSN
---