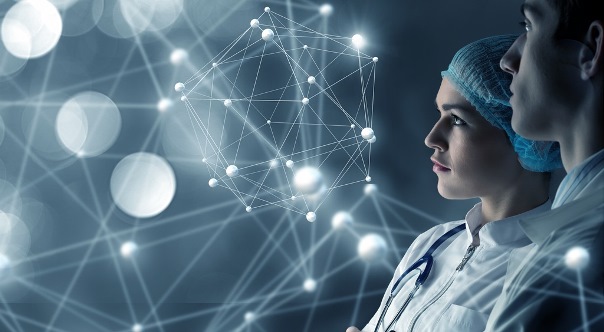 In the first of our blogs about our pioneering Future Challenges programme, project leads Urszula Kapoulas and Rosie Brown share their passion for the programme's cross-sector partnership working and its potential to deliver positive change.
The Future Challenges programme – what's it all about?
The Future Challenges is a ground-breaking West of England AHSN-designed programme that connects healthcare innovators with the local healthcare system and other system-wide stakeholders, in order to trial innovations that address locally identified health and care challenges.
Projects within the programme are funded by us for 12 months and trialled and evaluated over the course of a full year (for optimum data capture), with the aim of supporting wider adoption and spread of the most promising innovations.
It is very exciting because of its huge potential to identify solutions that could improve health outcomes for individuals. But also because the process itself is so innovative: innovative in its end-to-end challenge and solution matching process, and innovative because the project partners themselves (cross sector) co-produce the project plan and the delivery mechanism – and gather the data and evidence in order to measure the project's impact.
For us to facilitate this process – and to be able to provide such a comprehensive programme of support for our innovators, our member NHS providers and commissioners, and the wider system partners, (for example, local authorities, the education sector and independent evaluators) – is both rewarding and fascinating.
In brief, how does it work?
There are fundamentally four key stages to The Future Challenges programme: identifying the unmet healthcare need, identifying a potential solution, partnering the innovator with a 'host' organisation for trial, and delivery and evaluation of the project.
What are the current projects running?
By collaborating with our health and social care partners, we were able to identify two key challenge areas / themes for our first set of projects: 1). Young People and Mental Health Resilience and 2). Keeping Healthy at Home. Each has two core projects running under them:
1. Young People and Mental Health Resilience
MiHUB  – in partnership with ProReal, Wiltshire Council, Bath and North East Somerset, Swindon and Wiltshire CCG and Royal Wootten Bassett Academy

SmartGym Gloucestershire – in partnership with Rugged Interactive, Gloucestershire Health & Care NHS Foundation Trust, the Anna Freud National Centre for Children for Children & Families and Newent Community School and Sixth Form Centre
2. Keeping Healthy at Home
Replenish-ME – in partnership with KiActiv, Bath Centre for Fatigue Services and Royal United Hospitals Bath NHS Foundation Trust
Moving to Better Health – in partnership with KiActiv, Sirona Health and Care
There is also a smaller COVID-19 response pilot – Keeping Active During COVID-19 – that is being delivered under the same programme of work, in partnership with Wiltshire Health and Care.
How are they going so far?
The programme is so exciting and is full of strengths and opportunities.
One of the main benefits we've found is how it's broken down the traditional silos and barriers so often experienced by those keen to try out an new innovation. By bringing our health and social care partners and industry innovators together, and providing funding and project management support, the programme is providing the opportunity to truly embrace innovative solutions and cross sector partnerships in a low-risk way.
Through it, we're also all gaining a much better understanding of the methods to facilitate successful adoption and spread of innovations across the region – and by supporting the highest level of partnership innovation across our local health ecosystem, we're creating the opportunity to generate evidence to support this.
It's been so rewarding to piece together a programme that reflects our years' of experience and expertise in providing bespoke support for businesses and in engaging with our members – and to be part of a process that could significantly improve health outcomes for patients and the public is incredible.
What are the key successes to date?
While it's still early days and we are yet to evaluate the products, a major success to date has been the strengthening of the relationships between the different partners involved in each of the projects – all of whom have been amazing. The way the programme is designed means that this was always going to encourage strong partnerships to form, but the global pandemic has truly tested us, and the relationships have gone from strength to strength.
Our AHSN is uniquely positioned to support this type of multi-partner initiative and we are proud to be a part of it. Through this work, we are able to support the commissioning goals of NHS England and the Office of Life Sciences by speeding up innovation in order to deliver better health and, potentially, greater wealth, for the region.
What has been the toughest obstacle?
It is safe to say that we did not plan for a global pandemic in our project risk assessment, so COVID-19 has presented a huge challenge in terms of delivery! The Keeping Healthy at Home projects were affected by the sudden strain on clinical resources and a constantly changing landscape, as services had to be re-designed overnight.
The Young People and Mental Health Resilience projects have been running in schools, and so these have faced all sorts of challenges and complications new to all of us. It is a huge credit to our resilient project partners; in particular, the participating schools – Newent Community School in Gloucestershire and the Royal Wootton Bassett Academy in Wiltshire – that we have been able to pivot the projects. They have been absolutely incredible in looking after their students, adjusting to the constantly shifting national guidelines and keeping going with a positive, 'let's try this' outlook.  We are so proud of their continued efforts to deliver* during these most challenging of times.
What's your message to budding healthcare innovators?
The West of England AHSN is here to help you! If you need business development support and tools, expert advice, or information about funding opportunities, do visit our Innovation Exchange. Here you will be able to access support and make contact with our Business Development team to discuss how we help you to move your innovation forward.
You never know, perhaps your innovation could be the answer to the next Future Challenge!
*All projects under The Future Challenges programme are currently in the delivery and data collection phase.
Urszula Kapoulas is a Senior Project Manager within the Innovation & Growth team here at the West of England AHSN. Her role focuses on developing new partnerships, and engagement methods between the local health community and innovators, in order to articulate and respond to the clinical priorities of the region. Examples of this work include the Future Challenges programme and Create Open Health.
Rosie Brown is a Project Manager also within the Innovation & Growth team. Her role is to work with innovators and help them to navigate the NHS. She is involved in the delivery of a few different areas of work that aim to do this, including our Health Innovation Programme, individual business development support and the Future Challenges programme.

Posted on January 7, 2021 by Urszula Kapoulas, Senior Project Manager and Rosie Brown, Project Manager - Innovation & Growth, West of England AHSN
---