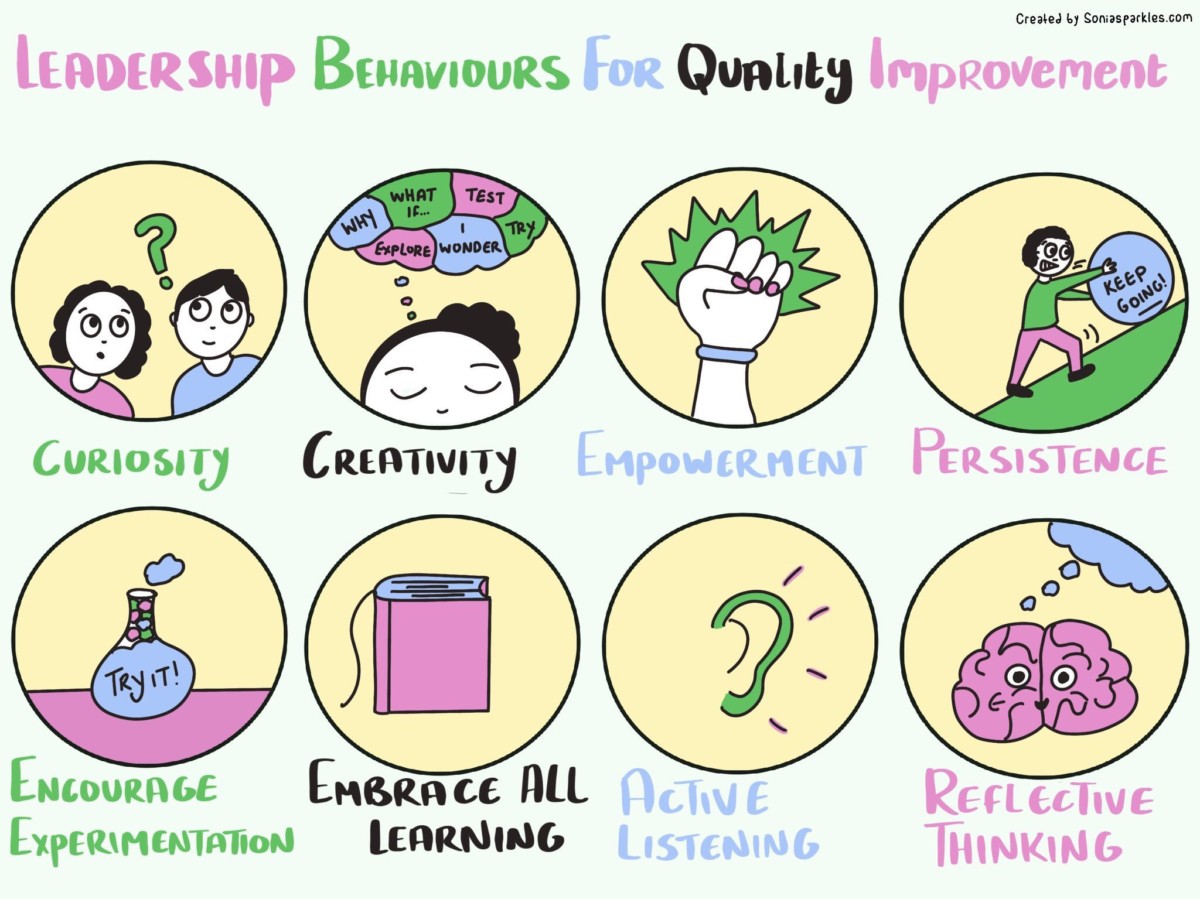 We have a number of job vacancies currently live – could one of them be right for you? To help you find out we caught up with Dave Evans and Nathalie Delaney, Programme Managers in the Service and System Transformation Team to see what they're looking for in a successful candidate.
So Nathalie – what stands out for you in prospective applicants?
First of all, they've got to have the right attitude. Knowledge can be learned, skills can be developed, but unless they've got curiosity, a willingness to challenge their own thinking and an ability to cope with ambiguity they're going to struggle with our unique place in the health and care system. But most of all they need to be great team players. The soft skills of communication and empathy are the real core of what we do.
In my opinion the sketchnote from Sonia Sparkles above really sums up the behaviours I'll be looking out for in applicants.
Dave, are there any things you're going to be looking out for as part of the interview process?
As my colleague Ellie said in her excellent blog, shortlisting is getting your foot in the door for the interview, and there are some specific things I'm going to be looking for as part of the process.
Being interested in what we do. It would be fantastic if people have experience in healthcare, innovation, industry, or the academic world – but we work with such a range of people that we're open to all backgrounds. We want people who are truly passionate about helping colleagues in front line roles to deliver safer and better care for patients. A lot of our work is in the innovation, adoption and spread space, and so we are looking for someone who has got a keen mind, is interested, and has a bit of resourcefulness in finding out about what we do.
Resilience and a growth mindset. Resilience is a critical quality we need. Being able to take the occasional knock back as an opportunity to grow, seeking the gift of constructive feedback and continually developing skills are positive attributes for working in an AHSN. If you are looking for challenges and trying new things then this is a great role for you, but you'll need to be open to learning from these challenges, and taking a spirit of experimentation. It's at the heart of quality improvement after all.
Flexibility and adaptability. We're a small team, and we all dig in to different tasks. We also work as a team – no lone wolves here – so we're looking for someone who's going to get stuck in and take responsibility for a variety of tasks to get the job done.
Finally there's a few basics we'll be looking out for – our projects move quickly, so the successful candidate will need to be on top of things and super-organised, able to prioritise and juggle several different things – and you're going to need a reasonable level of tech know-how. We're also out and about meeting people all the time, so you'll need to be able to chat and make connections quickly.
Above everything else, you need to be a really great team player – we look out for each other and firmly believe that the team is greater than any one of us.
If that sounds like you, we'd love to see your application and hopefully meet you at interview.
Nathalie, what sort of projects might the successful candidate get stuck into?
There is so much going on in our world so you could be working with people from all across our network – whether that's liaising with our member organisations to spread new innovations, coaching and training people in quality improvement methodologies, or being a part of our patient safety team working on some of our specific projects.
Sometimes you might be working in an area you've got experience and contacts in – other times you'll be working on a project that's entirely new, and will need to get up to speed fast, but whatever you do, you can be guaranteed it will be interesting and exciting!
Thank you Dave and Nathalie!

Posted on May 31, 2019 by Nathalie Delaney and Dave Evans, West of England AHSN
---