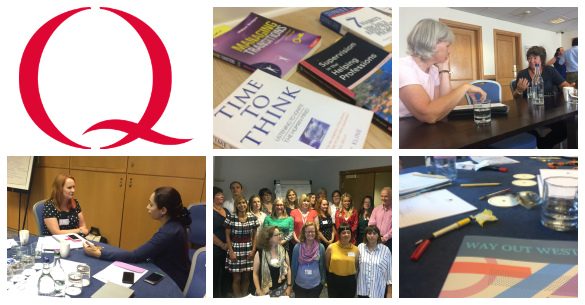 Our quality improvement project support officer, Kate Phillips reflects on her learning from the West of England Academy Improvement Coach Programme…
I recently took part in a great two-day improvement coaching event hosted by the West of England AHSN, funded by The Health Foundation. The event was attended by 26 of the West of England Qs, a group of people who I am really enjoying getting to know as we share a passion for driving quality improvement (QI) in healthcare. Sue Mellor and Dee Wilkinson, our fabulous facilitators, guided us through three coaching approaches with an emphasis on finding our 'best fit' coaching style. This encouragement for honest reflection ensured I left with a bounty of personalised counselling tools.
We started the course by working out our Honey and Mumford personality type which led to conversations around team dynamics and how to make the most of individual talents. I felt a sense of belonging and of 'finding my people' as the room was buzzing with personality type 'private' jokes. A particularly comical moment was when three 'activists' were first up to grab the board pen, while the 'theorists' were still discussing the merits of the process!
I initially joined the 'pragmatists' as I thrive on finding evidence-based logical solutions. However, following an insightful conversation with a colleague, I scooted myself closer to the 'reflectors'. She had noticed how I often approach tasks with a reflector mindset, which I reckon comes from a desire to learn best practice from more experienced colleagues (experienced in QI and identifying personality types!).
Having very recently made a jaunty sidestep away from a career in teaching, I am still finding my QI feet… Interestingly I think personality types are fluid and can change depending on the situation we find ourselves in.
For example, if I was to stroll back into a classroom and teach a class about displacement reactions (fire!) you would see a pragmatic Kate, but put me in the office answering the phone you would firstly see me very flustered as I juggle the telephone voice, demands of the caller and transferring the call. However after my heart rate has returned to baseline, I will reflect on the success of the phone call and how I can make it less of an ordeal next time (more fire?).
As I'm sure a lot of QI projects involve taking people out of their comfort zones, I think it is important to recognise that personality types may take a detour away from 'the norm' during the changing situation. I can imagine this having quite a big impact on team dynamics.
As the two-day programme unfolded, Sue and Dee skilfully balanced theory-based learning with opportunities to 'play' with different coaching approaches, always with the focus on our own QI projects. We worked in triads to explore the benefits of three different coaching approaches:
GROW – Goal, Reality, Options, Will
CLEAR – Contracting, Listening, Exploring, Actions, Review
OSCAR – Outcome, Situation, Choices, Actions, Review.
As both coach and coachee, the chance to experiment with these approaches and to work with different Qs was an invaluable opportunity for me.
As a coach I grasped the power of suspending judgement, in allowing silence to fall in a conversation and the truth that can be discovered by tapping into the conversation energy level as it peaked and troughed. My favourite approach was GROW, as I found the acronym was easy to remember and the conversation often flowed quite naturally along this path.
In the position of a coachee I learnt to approach the conversation honestly and openly. As a result I was rewarded with multiple light bulb moments as QI ideas and feelings bubbled to the surface, simply drawn out with a few pertinent questions and some very active, active listening. I'd like to thank my triads for these delicious moments of clarity.
I left the programme feeling excited by the power of listening and empowered by the ability to harness a 15 minute time slot. My enthusiasm was echoed amongst the other delegates. "It's powerful stuff for fostering change," said one.
I'd love to hear your own thoughts and tips about using coaching to promote and accelerate QI projects. You'll find me on twitter at @IamKateP or @weahsn.

Posted on July 17, 2017 by Kate Phillips, Quality Improvement Project Support Officer, West of England AHSN
---