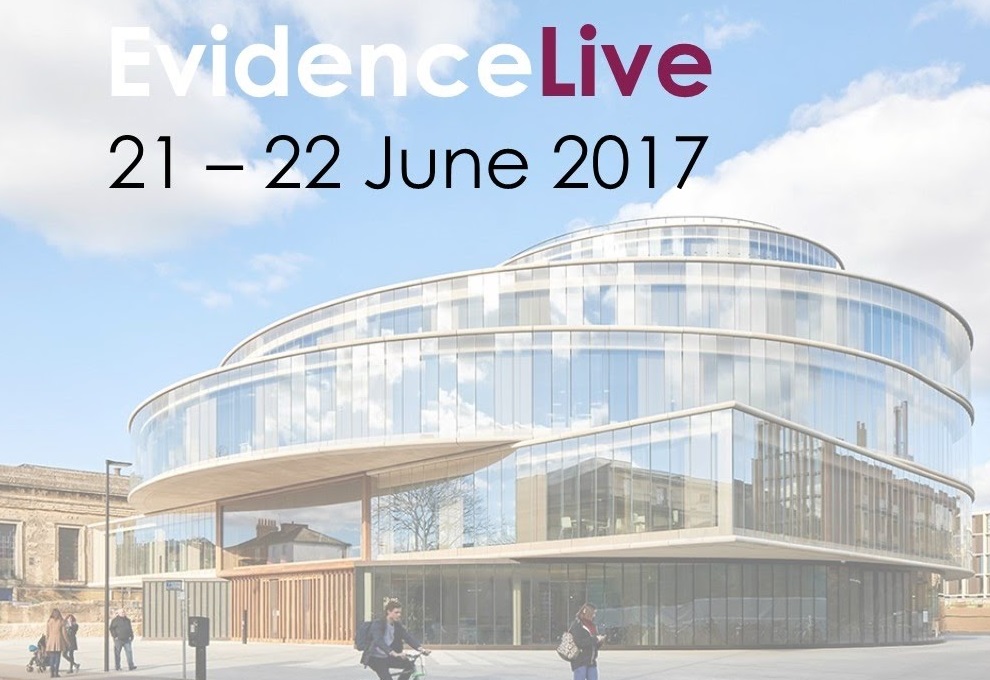 Our Primary Care Programme Lead, Sian Jones shares her thoughts on this year's Evidence Live…
20 June 2017 was one of the hottest evenings since the summer of 1976 to be heading to Oxford for the evidence nerd-fest that is Evidence Live. This two day international conference brings together the great and the good of evidence-based medicine (EBM), geeks and gawping groupies, as well as a lot of us who want to expand our knowledge and networks, or share what we're doing.
Oxford University's Centre for Evidence-Based Medicine (CEBM) and the British Medical Journal (BMJ) jointly run this event every year. Ben Goldacre of 'Bad Pharma' and 'Bad Science' fame, refers to the conference as "the Glastonbury of EBM", where "everyone who is anyone passes through".
Bristol on tour
This year I attended just one day to support Bristol colleagues presenting from CLAHRC West and UWE. We gathered in the stylish Blavatnik School for Government where the conference started with an opening address from Fiona Godlee, BMJ Editor-in-Chief.
To give a sense of day one, the plenaries covered:
Fergal O'Regan from the European Ombudsman on transparency of clinical trials data from the viewpoint of the European Medicines Agency.
Doug Altman; Oxford Professor of Statistics in Research, on the scandal of poor medical research. He explained that nothing much has changed over more than 20 years and says "ignorance of research methods is no excuse, if you can't do it well, don't do it".
A thought provoking presentation from Mary Dixon-Woods; Cambridge Professor of Health Services Research, on improving evidence for improving healthcare, where many examples were presented to show how the evidence that quality improvement (QI) improves quality is not robust and evaluation is lacking. She shared the good news that Cambridge University has been awarded a grant from The Health Foundation to set up an Improvement Research Institute to strengthen the evidence base for improvement and she will be leading this.
Evidence-based medicine versus evidence-informed commissioning
A key focus of the conference was a consultation on the EBM Manifesto for Better Healthcare. This has been developed with the aim of finding solutions for better healthcare evidence, in response to the 2014 BMJ paper by Trisha Greenhalgh et al 'Evidence based medicine: a movement in crisis'. The Manifesto is concerned with the increasing volume of evidence that is of variable quality and how this impacts decision making.
Simply put, bad (untrustworthy) evidence results in poor decisions. This clearly has implications for patient care. So the EBM Manifesto hopes to fix the problems in EBM asking for ideas from stakeholders via the ongoing consultation.
EBM has been around for over 20 years and has been adopted as an approach to support clinical decision making. I was reflecting on the view of the EBM leaders that EBM is in crisis, and thinking about commissioning – the area of healthcare we are working to influence at the West of England AHSN.
Commissioners are responsible for two-thirds of the NHS budget, yet the way they make decisions on how to allocate this has not been formally studied and there has not been an approach like EBM devised to support them. We also don't suffer from too much research, whereas in EBM – the reverse is true. The Health and Social Care Act 2012 makes reference to the need for greater participation by Clinical Commissioning Groups (CCGs) in research, but before this there has been little requirement on commissioning organisations to apply research evidence.
Commissioners make decisions that affect populations: it's a big deal! So it feels like commissioning is in an even worse place than EBM. It is not an issue of not wanting to use research, but it's not always easy.
Our very own manifesto
Despite the heat, Evidence Live 2017 was a less nervy experience than 2016 when I co-presented a workshop on evidence-informed commissioning with Alison Turner from Midlands and Lancashire Commissioning Support Unit. The workshop nurtured an idea for a manifesto (yes another one!) for commissioning, setting out ten steps towards an ideal world of evidence-informed commissioning.
This has been blogged about here:
Our manifesto represents a call to action and we would encourage those who have an opportunity to influence commissioning decisions to use it as a set of aspirational standards.

Posted on July 18, 2017 by Sian Jones, Primary Care Programme Lead, West of England AHSN
---